The TBG offers tours of four Toronto gardens lead by friendly, knowledgeable, fully trained guides. Tours are modestly priced and make a memorable, educational and fun-filled outing.
TORONTO BOTANICAL GARDEN and EDWARDS GARDENS
(Year-round)
A 90-minute tour of these two adjacent outdoor gardens. The theme of this tour can be horticultural, environmental, historical or specific to the group's interest or physical limitations. For an additional fee, we can arrange for a box lunch before or after your tour.
ALLAN GARDENS CONSERVATORY
Tours can be booked between 10am to 4pm (Allan Garden opening hours are 10am to 5pm).
Enjoy a 60-minute tour of the historic greenhouses in downtown Toronto showcasing the fragrant spring bulb show in spring, the splendour of chrysanthemums in fall and the seasonal plantings of poinsettias in December.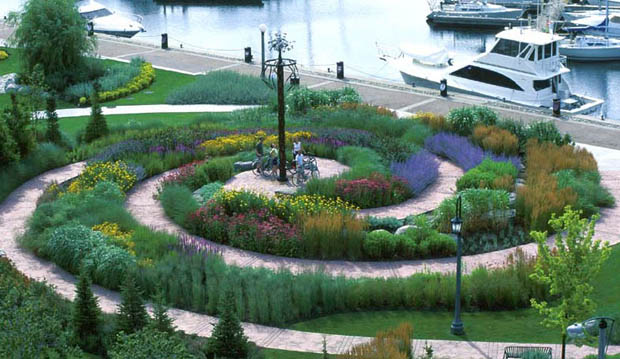 TORONTO MUSIC GARDEN
(June through September)
Enjoy a 45-minute tour of this Harbourfront garden inspired by renowned cellist YoYo Ma, designed in collaboration with landscape architect Julie Moir Messervy.
Tour Fee: $10 per person ($5 for seniors/children), $25 cancellation fee charged without 48 hours notice.
Custom Tours: We would be happy to custom-tailor a nominally priced tour package to fit your group's needs.
Conditions: Reservations are required. Please book at least two weeks in advance. Minimum 8 people are required to book a private tour. $25 cancellation fee. Tours will run as scheduled unless there is severe weather.
Please make every effort to arrive for tour start time. In the event of delayed arrival tour guides will wait for a maximum of 30 minutes after which the tour is cancelled and a cancellation fee of $25 will be levied.
Tours are offered in English.  With enough advance notice, we may be able to arrange a guide to provide  a simultaneous translation of our knowledgeable tour guide's talk in other languages.
BOOK YOUR GROUP TOUR TODAY

T. 416-397-4145
E. tourguides@torontobotanicalgarden.ca