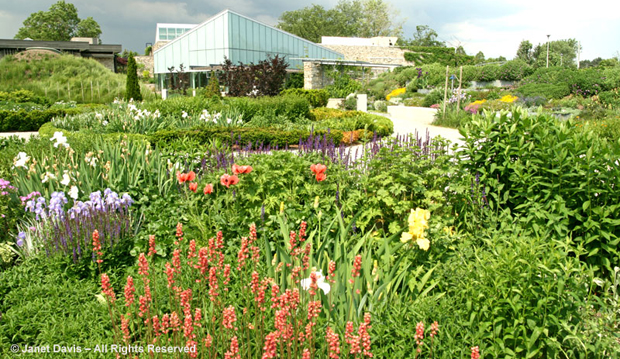 Traffic delays due to contruction in the area
Update May 2019 – Starting in July, there may be a temporary eight week restriction on vehicles travelling between Leslie Street and Eglinton Avenue East so that Crosslinx can build the LRT guideway in the middle of Eglinton avenue and then install track. During the closure, the TTC's Leslie Street 51 bus will terminate at Leslie Street and Eglinton Avenue in a temporary bus loop. For more information on Eglinton Crosstown LRT project and construction updates click here.
By Car
If you are coming across the top of Toronto, take Highway 401 to the Leslie Street exit. Drive south on Leslie until you get to the stoplights at Lawrence Avenue. You may turn right at the intersection and take the first or second driveway on your left to enter Edwards Gardens and find the TBG, OR you may proceed straight through the lights and take the first right into the large parking area surrounding the TBG. Parking is offered free of charge.
By Bus
TTC buses pass the corner of Leslie Street and Lawrence Avenue regularly. Both the Lawrence East 54 bus and the 54A bus will deliver you right to the corner.
By TTC
Exit the Yonge Subway line at the EGLINTON station and take the 51, 54 or 162 bus to LAWRENCE Avenue. The TBG is on the Southwest Corner.
By Bicycle
Make your way into the Sunnybrook and Wilket Creek parts of the City of Toronto Parks system and you will find bicycle and walking paths up to Edwards Gardens. The TBG is in Edwards Gardens, at the corner of Lawrence Avenue and Leslie Street. Click here to learn more about bike racks at TBG.
On Foot
Meander through the beautiful City of Toronto Parks and Edwards Gardens until you come to the corner of Leslie Street and Lawrence Avenue. If coming from the north, east or southeast you will want to make your way to one of the two major streets (Leslie or Lawrence) and proceed to where the two meet. The TBG is on the southwest corner of the intersection of Leslie and Lawrence.