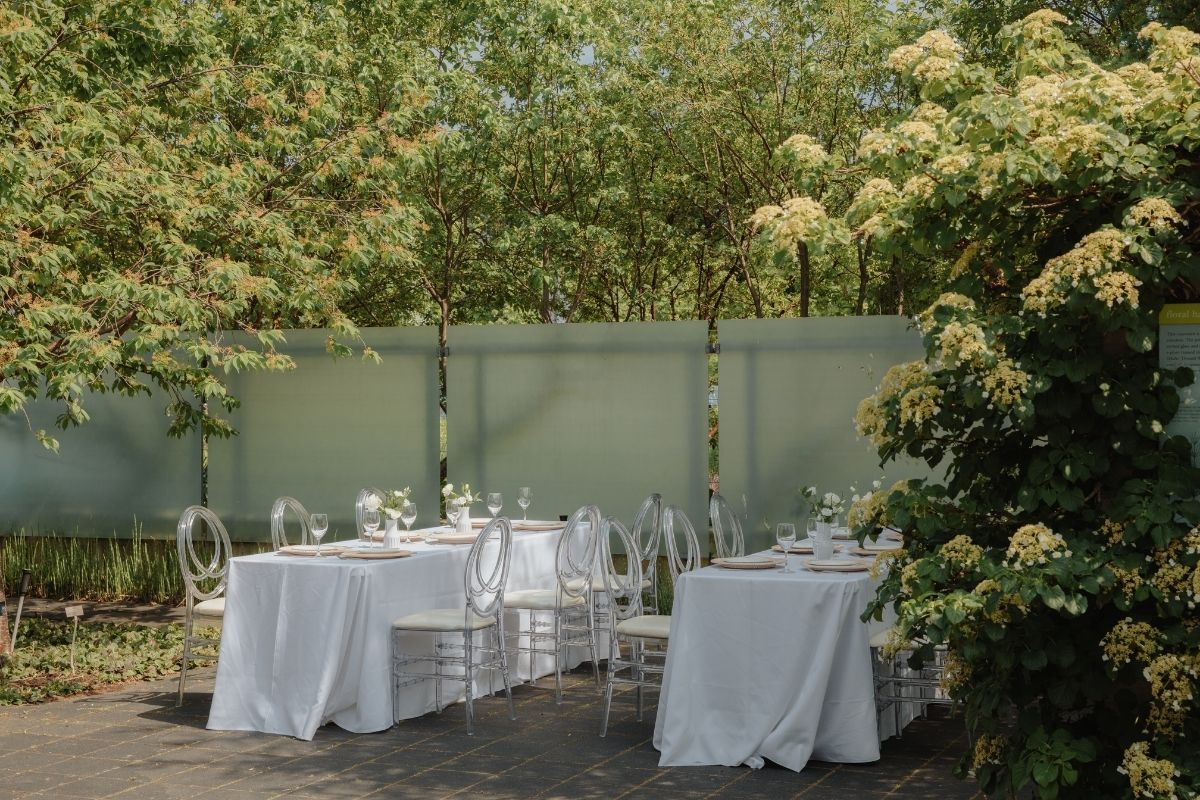 Floral Hall and Courtyard
The Floral Hall is the largest space available. It features a soaring 20-foot ceiling and a series of skylights that offer a view of the passing clouds. The interior of pale oak woodwork, dark tiled floors, grey dry-stacked stone and neutral walls provide a blank canvas that is complemented by any décor. A stage, screen, sound system, lighting options and a convenient loading/receiving area accompany this unique and elegant space as well as a change room/green room and washrooms.
The hall has its own private garden courtyard, accessible through double glass doors. Walls of acid-etched glass, natural stone and espaliered fruit trees encircle this secluded space. Fragrant shrubs and white, flowering perennials make this elegant area ideally suited for evening enjoyment.
Suitable for groups up to 350 depending on furniture arrangements and health and safety restrictions.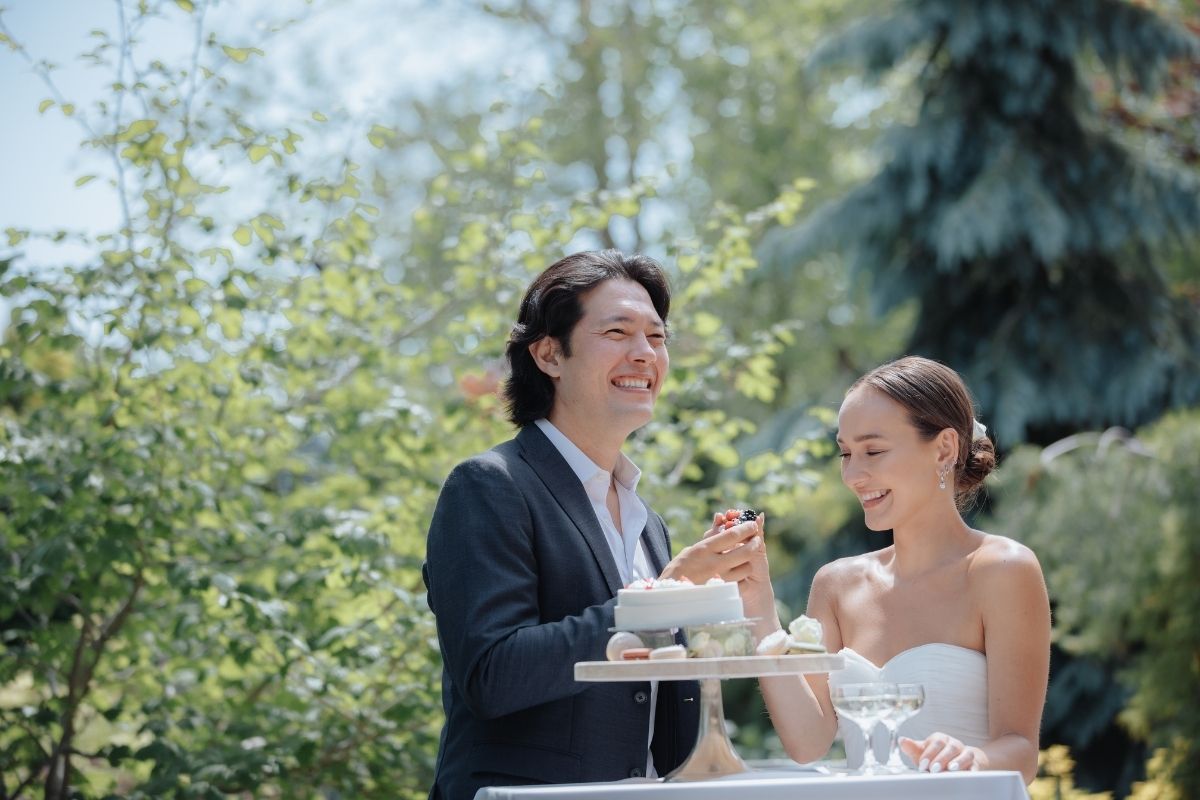 Garden Hall and Courtyard
The Garden Hall is ideal for smaller, more intimate functions. The Garden Hall is suited for both formal and informal events with an accessible private entrance, washrooms, catering kitchen and cloakroom. The interior was recently remodeled by Lloyd Ralphs Designs, known for their eclectic, modern and glamorous interiors. The overall fresh, white palette is accented by a cluster of 39 "Norm 69" lights. Simon Karkov designed these visionary, futuristic lights, which consists of 69 parts that were hand-assembled by TBG volunteers.
The hall opens onto a sunken courtyard that serves as a natural amphitheatre for outdoor gatherings. It is surrounded by gardens and an arching water channel and bubbling waterfall. This courtyard is linked to the Westview Terrace by a stone bridge. The trees, shrubs, grasses, sedges and perennials in this garden display year-round colour, interesting texture, form and fragrance.
Suitable for groups up to 120 depending on furniture arrangements and health and safety restrictions.
---
OUTDOOR SPACES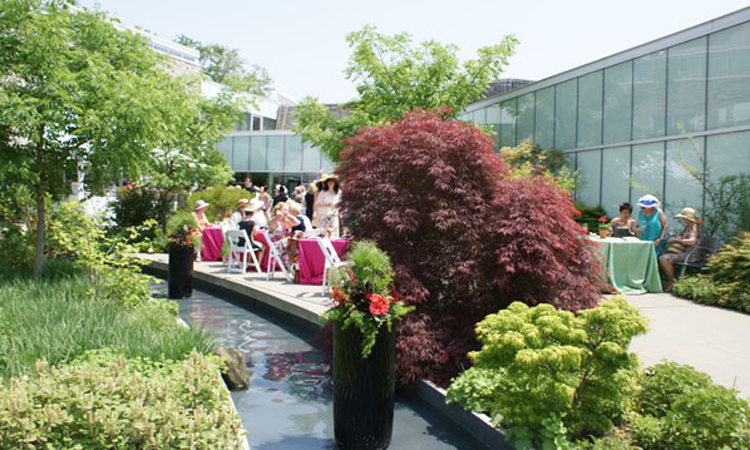 Westview Terrace
The Westview Terrace is surrounded by a shallow water channel with cascading planting and a babbling waterfall nestled into the landscape. The soothing sound of water makes this an ideal location for outdoor wedding ceremonies and cocktail receptions. The green roof of the building can be seen from the northern edge of the terrace, near the waterfall.
The Westview Terrace is a beautiful extension
for outdoor gatherings that spill out from the
Garden Hall or Floral Hall. It can be added to a
Garden Hall or Floral Hall rental.
The additional 120 person standing space doubles the area of the Garden Hall Courtyard and gives two distinct gathering areas connected by a stone bridge and surrounded by Japanese maples.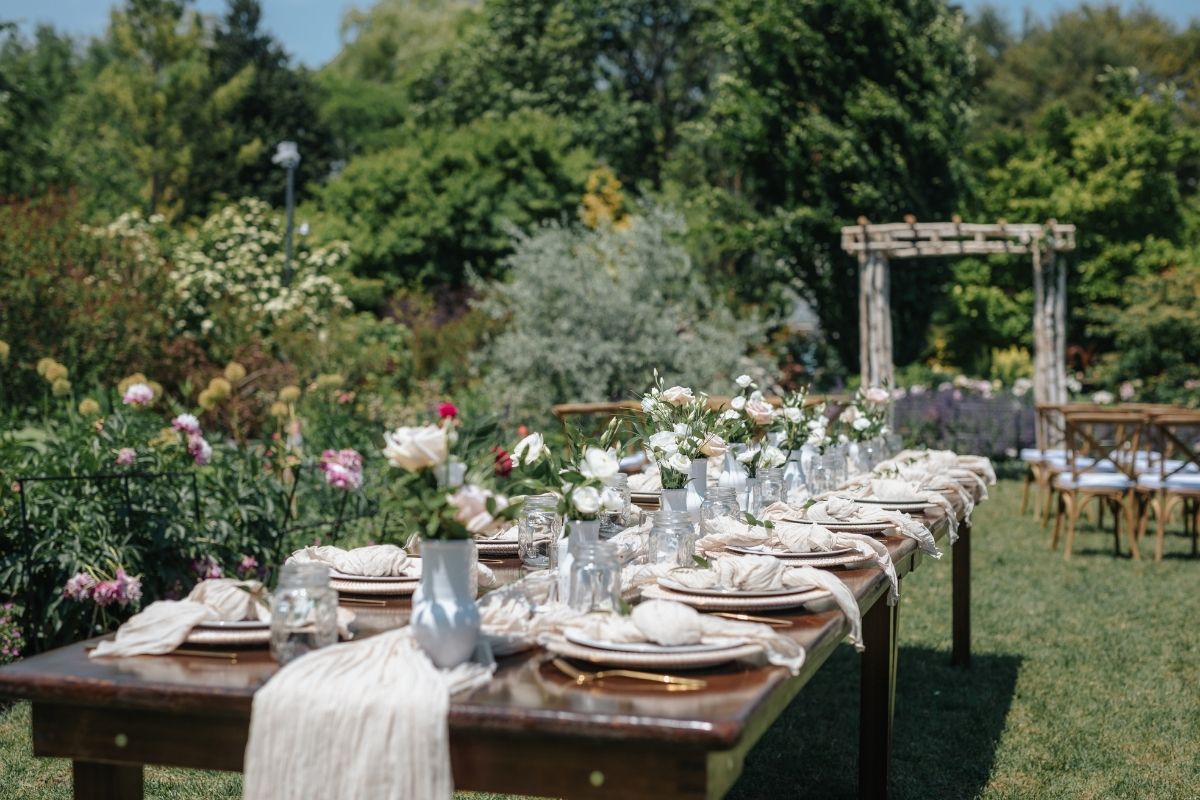 Perennial Border
This garden, with a manicured lawn surrounded by a lush perennial garden border, provides one of the most beautiful settings for an intimate outdoor ceremony, dinners or cocktail receptions.
This 60' x 20' area is located within a series of themed gardens.
Suitable for intimate gatherings.
---
UPPER LEVEL
Studios
The Studios are located on the upper level of the building and consist of three meeting rooms,
each with a separate entrance. The folding room dividers can be opened to created a larger, combined space.
These rooms are ideal for workshops, business meetings, break-out rooms and event spaces.
Suitable for groups up to 120 depending on furniture arrangements and health and safety restrictions.
---
Please fill out our Rental Inquiry Form so that we can better assist you.