Personally, I get very excited watching the buds of trees and shrubs slowly swell, expand and eventually burst into blooms. Viburnum farreri 'Nanum' is currently budding at the edge of the Westview Terrace on the walk toward the Kitchen garden. Soon, the fragrant white-pink tubular blooms will open and a delightful fragrance will fill the garden air. I have added a V. farreri to our home garden after rediscovering this plant at TBG. Viburnum farreri 'Nanum' (shown above) is a compact-growing shrub topping out at 1.2 metres (4 feet) in height. As an added bonus, the foliage develops a red-purple colour in fall.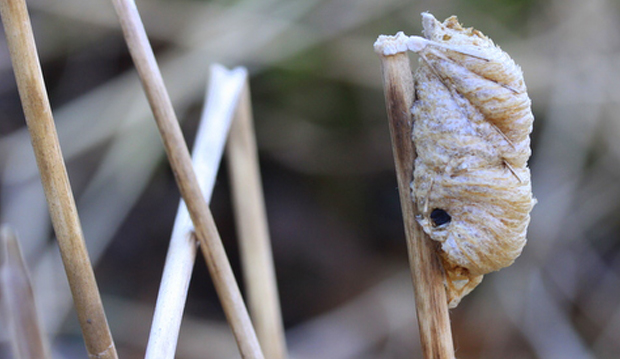 While the temperature warms, we wait in anticipation for the buds on the other trees and shrubs to swell and for the perennials to push their new spring shoots out of the ground. It's an exciting time indeed. It's also exciting to welcome back our incredible team of garden volunteers and KOGS (keepers of the Garden) who assist with maintenance. At the moment, the focus is on spring cleaning and cutting back the remnants of last year's growth. While doing so, one of our new garden volunteers pointed out what looks like an egg sack of praying mantis (shown above). We'll continue to watch this carefully and with much anticipation over the coming weeks.    
On your next visit to TBG, be sure to look closely at the details because you never know what you might see and experience in the Garden.