I'm thrilled to report that while touring a group through TBG this week, I spotted not one, but two monarch butterflies (at the same time). The first sighting of the pair was in the Perennial Border. A few minutes later, I witnessed another in the Entry Garden Walk (I'm hoping this was a third specimen). Earlier in the day, Jenny Rhodenizer, our marketing and communications director, also spotted one of the black and orange beauties fluttering in the garden. We're all hopeful of many more sightings in the coming weeks.
We've all been carefully scanning the gardens anticipating the arrival of the much-loved monarch, particularly in light of reports of the dramatic and terribly sad decline in the their populations. A combination of factors, such as pesticides, changing weather patterns and habitat loss have been attributed to the dramatic drop in their numbers. As homeowners, we're being encouraged to provide a refuge for monarchs, in particular by planting Asclepias in our gardens. I love the idea of promoting the use of home gardens beyond an aesthetic value. Planting with a purpose!
I'm pleased to report that several Asclepias species are growing in a number of areas throughout the gardens.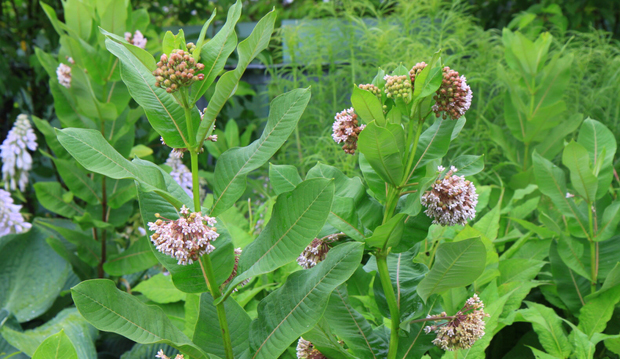 Asclepias syriaca, Milkweed or Butterfly Flower
Two large groupings of Asclepias syriaca, known as the common milkweed or butterfly flower, are in the Perennial Border and the Entry Garden Walk. This North American native species is a critical food source for monarch larva. Not only are the plants beautiful when in bloom, they also provide added interest in the fall and winter garden from their dramatic seedpods. Before deciding to add this to a home garden, home owners should be aware of the spreading and rather aggressive nature of this particular species. For the typical home garden, it must be planted with caution, if at all. The plants thrive in full sun to part shade and seem to be very adaptable to a variety of soil types. At TBG, we keep a watchful eye on how much the clumps are spreading and we carefully edit the number of plants each season.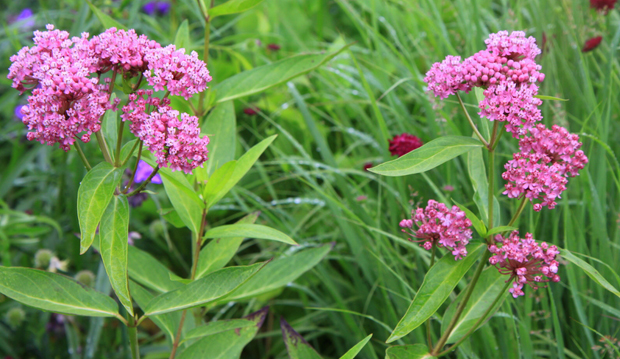 Asclepias incarnata 'Cinderella', Swamp Milkweed
For the home garden, I recommend planting Asclepias incarnata, the rose or swamp milkweed. This Asclepias prefers full sun and damp to wet soil. Both a food source for the larvae and the adults, this species is much better behaved in small spaces. A number of named selections are available on the market, including the beautiful and eye-catching pink-flowering Asclepias incarnata 'Cinderella'. There's also the pure white Asclepias incarnata 'Ice Ballet'.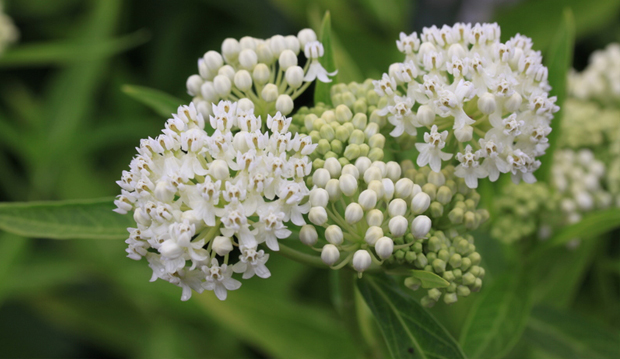 Asclepias incarnata 'Ice Ballet'
For sunny gardens with dry, sandy or gravelly soil, don't despair. Consider planting Asclepias tuberose, the common Butterfly Weed. This Eastern North America wildflower produces dramatic yellow-orange blossoms in summer that are an irresistible draw to butterflies, bees and even hummingbirds. I love the beautiful and brilliant orange aphids that always seem to populate the flowering stems. Soon after, hungry ladybird beetles and their veracious larvae arrive on the scene.
In addition to Asclepias, there are a host of other garden plants that serve as a food source for monarchs. Annuals such as Zinnia and Verbena bonariensis and perennials such as Liatris, Eupatorium and Sedum (Hylotelephium) will also lure these guests into your garden.
See how plants can attract visitors to your own garden by visiting TBG. You'll be amazed by the many birds, insects and mammals that enjoy the garden. And if you're lucky, you too may catch a glimpse of a monarch butterfly.