This garden, located a 5-minute walk through Edwards Gardens, provides a unique space for children to learn by interacting with the environment. Since 1998, the Toronto Botanical Garden has offered school and recreational programs conducted in this garden, designed to stimulate children's curiosity about nature and gardening through hands-on activities.
The Teaching Garden is located on the west side of Edwards Gardens, across the creek and up the curved path. When you see the red-roofed garden house, the towering white pine trees, and the giant monarch butterfly, you will know that you're in the right place!  Follow the dinosaur footprints all through the garden.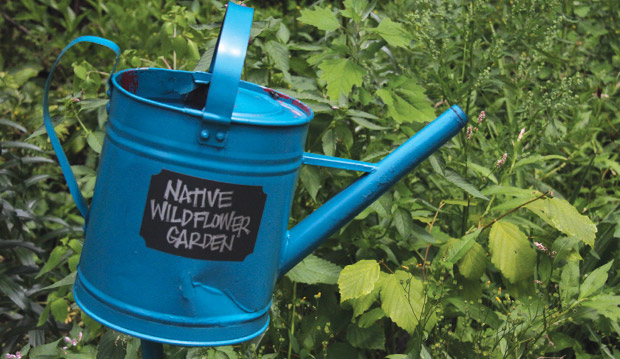 The Teaching Garden features a series of demonstration gardens for children to plant, cultivate & sow vegetables and flowers. Harvested vegetables are donated to the North York Harvest Food Bank.
Alphabet Garden: Children are guided along a winding path, visiting plants with names that begin with letters of the alphabet. Can you think of a plant that begins with the letter X?
Dinosaur Garden: In this garden, which is home to a friendly stegosaurus, children will see and touch plants that dinosaurs once munched on. This garden's purpose is to help children discover the history of plants.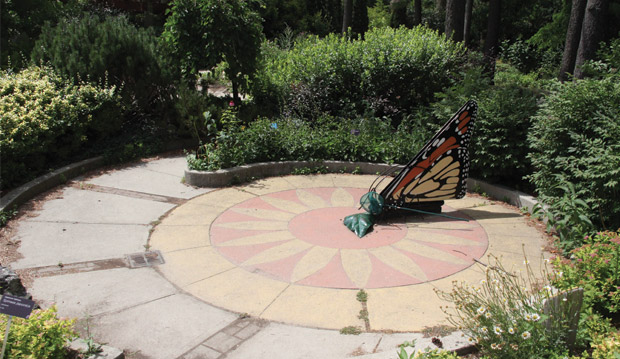 The Spiral Butterfly Garden: Marked with a giant butterfly sundial, this garden teaches children how the movement of the sun affects plants, and features plants that are especially attractive to butterflies and other pollinators.
Generously donated by The Garden Club of Toronto