Planning for a Winter Garden Tour
Who would have thought that at this time last year select Helleborus and Erica in the TBG gardens had visible buds and flowers bravely poking through the snow in the Westview Terrace? Well, this is definitely not the case this year, as the gardens are covered by a thick blanket of snow. And a deep blanket it is. Note the depth of snow along the path on the image above. I want to thank our friends at the City of Toronto for clearing the snow and creating walking paths to and around the building.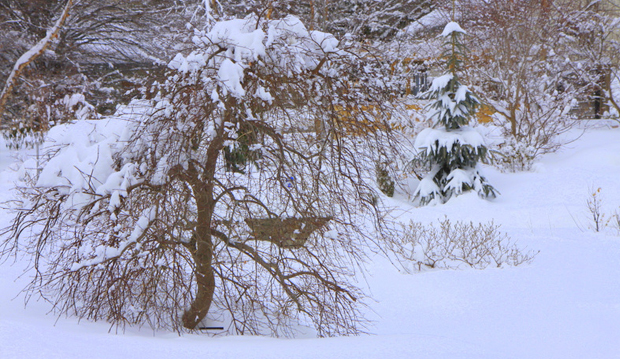 Personally, I've always liked winter. It's a season when a well-planned garden with good bones still offers much to see and enjoy. In addition to evergreens, ornamental grasses—which haven't succumb to heavy snow and seed heads from plants that were NOT cut down in the fall—I appreciate trees and shrubs with good bark and interesting forms. A great winter presence is one of the many reasons I'm drawn to Japanese maples, particularly those with a weeping growth habit. Acer palmatum var. disscectum 'Inaba-shidare' provides strong architectural detail in the Westview Terrace. It's for this reason, I think it's important to consider shopping for Japanese maples in early spring, just before, or as, the trees begin to leaf in. As I reminded customers during my retail years at Plant World, you want to see the silhouette (or the skeleton) of the specimen that will reside in your garden for many, many years to come.  
Winter is also a good time to evaluate the arrangement of branches of all deciduous woody plant material throughout the garden. Use this time to identify and mark (with some jute twine) which and where branches should be pruned. A digital picture can help. This Japanese maple is definitely due for some careful pruning.  
Even I, who really doesn't mind the snow or the cold, am becoming a little tired of this particular winter. I'm looking forward to Get the Jump on Spring (Saturday, February 22) and Canada Blooms (March 14 through 23), which will help refresh my gardening spirit, as so many of us long for spring.
Consider joining yours truly at Get the Jump on Spring for a Winter Bones Garden Tour in our gardens (weather permitting) at 11:30 a.m. and 1:30 p.m.