Although the fall garden is rich in a blaze of beautiful golden, orange, red and burgundy tones, I continue to have a soft spot for white, even in autumn. One plant that will reliably put on a show of white daisy blooms in very late summer and early fall is the Nippon daisy, also known as Montauk daisy (Nipponanthemum nipponicum, synonyms include Chrysanthemum nipponicum and Leucanthemum nipponicum). This Japanese native, although sold in most nurseries with other perennials, is more of a sub-shrub as it will develop woody stems by the end of the season that do not die back to the ground over the winter. To maintain a more compact and tidy appearance in the garden, I recommend a hard pruning each spring. Personally, I suggest cutting plants back by half to two-thirds every spring. They are quick growing and will reach three or more feet in a single season.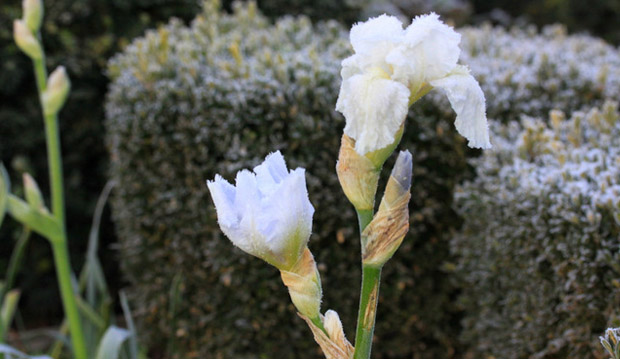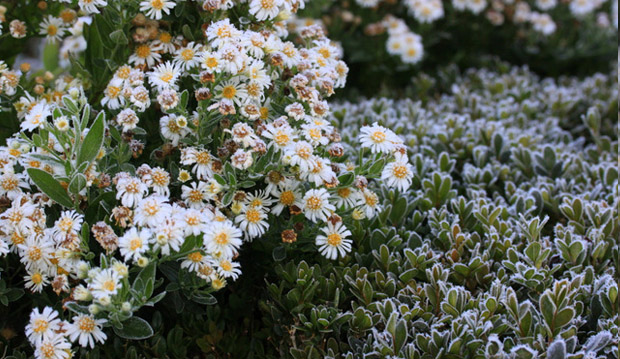 Nippon daisies are currently being added to the Beryl Ivy Knot Garden where they will be in good company with two other late white-blooming perennials, Aster ageratoides 'Starshine' (Japanese Aster) and the re-blooming tall bearded Iris 'Immortality'
I first came across Nippon daisies many years ago while walking up and down the aisles at Humber Nurseries. Growing up in the area, I was a regular visitor and would challenge myself to try and remember plant names that I learned on a previous trip while also trying to pick up a few new ones each visit.
I also had a fondness for attractive foliage, even early on.  As a result, I was immediately drawn to the bright rich shinny green foliage of the Nippon daisy. When I read that it bloomed from late summer into early fall, I was convinced that I had to give it a try. After all, my ongoing gardening mantra has been, and continues to be, the best way to really learn about a plant, is to grow it. From my experience, I recommend the Nippon daisy be grown in full sun where it receives 4 to 6 hours of direct sunlight. I have also observed plants growing in partial shade but they seem to produce fewer blossoms and appear a little stretched. The daisy flowers are much loved by bees and other late season pollinators. Once established, these plants have some drought tolerance. They are also deer and drought resistant.
It is rather fitting that this week I chose to write about a plant I first learned about at Humber Nurseries. It continues to be a garden centre I enjoy visiting to shop and discover. Many years ago, I also made another discovery there that would have a lasting effect on me, both personally and professionally.
One day, while shopping at the garden centre, I came across a Humber employee assisting a customer with the identification of a mystery plant. I couldn't help stopping to listen to this man discuss and explain the features of the leaf sample that led him to the id.  I can remember the voice in my head saying, "this man knows his stuff."
I would soon learn that man was Tom Thomson. Over the years I was fortunate to get to know Tom, he became both an inspiration and a mentor for his vast horticultural knowledge. I always looked forward to a discussion with him about a new plant or what was happening in the industry. I was very saddened to learn of his passing last week. The horticultural industry has lost a true plantsman. He will be much missed.