Through the Garden Gate: Riverdale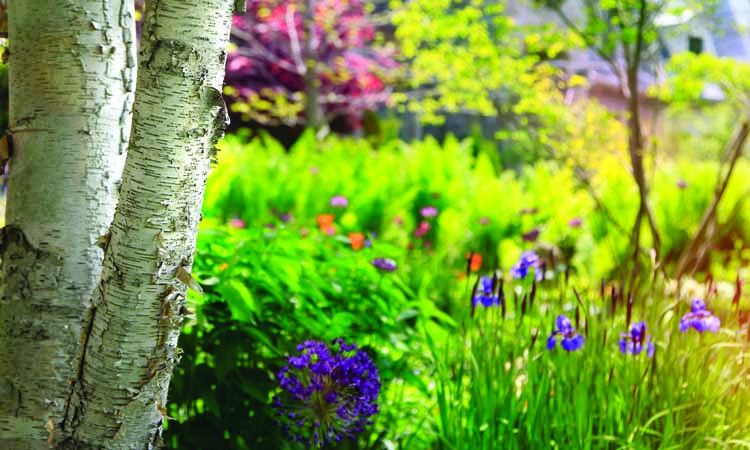 This annual tour will highlight beautiful private gardens in the east-end Toronto neighbourhood of Riverdale, known for its diverse community, abundant dining choices, quaint Victorian homes, and some pretty amazing gardeners! This is a high-density urban neighbourhood that is also blessed with an abundance of parkland where one can escape the hustle and bustle of big-city living. Riverdale Park is one of the largest green spaces in the city. Its steep hill has a spectacular view of the city and is a favourite location for sunset picnics. Withrow Park is a central hub and meeting place with a popular Saturday farmers market.
Saturday and Sunday, June 10 and 11, 2023 11 a.m. to 4 p.m.
---
Garden-goers will have the opportunity to visit more than 15 residential gardens, of varying sizes and themes. The self-guided format enables participants to discover the gardens at their own pace following a map and guide that contains descriptions of each featured garden. There is something new to discover and inspire behind every gate. A complimentary shuttle bus service is available for participants to "hop on and hop off" along the route, which is also very walkable. Back by popular demand will be live music in select gardens and a scavenger hunt to enhance the fun and enjoyment of connecting with nature. Garden seekers will also have a chance to ask questions and learn something too! Knowledgeable Toronto Master Gardeners will be stationed in each garden and will be happy to answer plant and garden design questions. This is an outdoor event that can be enjoyed solo or with family and friends, strolling along the tree-lined streets, while skipping in and out of gardens. Come early to visit Withrow Farmers Market on Saturday or linger after the tour to shop or dine at one of the local restaurants in the Danforth Village. Your ticket (wristband) gives you access to:
Beautiful private gardens in the Riverdale neighbourhood
"Hop on, hop off" complimentary shuttle buses which circle the garden route
Garden guide and map with descriptions of each garden as well as a comprehensive digital guide to making the most of your tour experience which includes the history of the area, full descriptions of the featured gardens, insider and neighbourhood tips, and more.
---
TICKETS
Tickets are limited and advance purchase is recommended. Tickets will be available for purchase at tour headquarters on the weekend of the event. The tour takes place rain or shine. Please dress for the weather.
One-Day Public Pass (Saturday or Sunday) – $45 each
One-Day Members Pass (Saturday or Sunday) – $40 each
Two-Day Public Pass (Saturday and Sunday) – $70 each
Two-Day Members Pass (Saturday and Sunday) – $65 each
Two-Day Student Pass (Saturday and Sunday) – $25 each
Toronto Botanical Garden Membership – $45 per year or $65 for two years
---
PREVIOUS MEDIA COVERAGE
---
TORONTO NEIGHBOURHOODS THE TOUR HAS VISITED
2023 – Riverdale
2022 – Wychwood 2021 – Postponed due to COVID-19
2020 – Postponed due to COVID-19
2019 – The Beach
2018 – Windfields Estate
2017 – Rosedale North 2016 – The Kingsway
2015 – Lawrence Park 2014 – Hogg's Hollow
2013 – Forest Hill
2012 – Rosedale
2011 – Swansea Village
2010 – The Beach
2009 – Beyond the Bridle Path
2008 – Riverdale
2007 – Wychwood Park and Davenport Ridge
2006 – Toronto Islands
2005 – Rosedale East
2004 – Rosedale
2003 – The Kingsway and Sunnylea
2002 – Lawrence Park
2001 – Bennington Heights & Moore Park
2000 – Rosedale
1999 – Grenadier Pond
1998 – Hogg's Hollow
1997 – Spadina, Casa Loma & Davenport Hill
1996 – Riverview Drive, Teddington Park & Mason Blvd.
1995 – Shades of the Humber (Baby Point)
1994 – A Sunset tour of Arjay Crescent
1993 – Rosedale & Forest Hill
1992 – Lawrence Park
1991 – Hogg's Hollow
1990 – Forest Hill & Belmont Street
1989 – Downtown Toronto Private Gardens
1988 – Downtown Toronto Private Gardens