FAMILY PROGRAM: Let's Build a Native Bee House
June 26, 2022
@
10:00 am
–
3:00 pm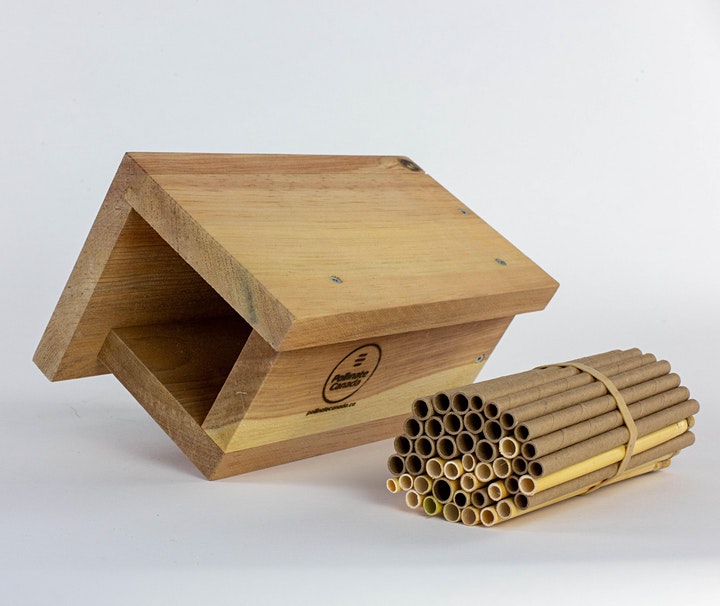 Join Prafulla Prabhu for this hands-on, one-hour workshop where you will leave with a bee house to attract gentle native bees to your garden. Bees are an important part of our ecosystems and our lives. From coffee, fruits, and vegetables, to candles, wax artworks, cotton and so much more – bees play an important role in modern life. More importantly, they are responsible for a third of the food we consume on a regular basis. With changes to our climate, our relationship with native bees is coming into sharper focus. In this hands-on workshop, participants will learn how to make a bee house that can be placed in their backyard to attract gentle native bees. The program price includes the cost of the bee house which you will take home after the program.
---
---
REGISTER TODAY
Bee House Full Starter Kit Materials
Bee house: Produced by local artisans with pine wood finished with organic wood stain.
40 tubular lakebed reeds and cardboard tubes
About Prafulla Prabhu
Praf (Prafulla) Prabhu is the founder, CEO of Pollinate Canada an organization that is working to build a movement to support gentle native bees in urban and rural areas. Although she has worked with honeybees her enduring interest is in nurturing bumblebees and other native bees in urban and rural areas. She regularly conducts workshops and classes on native bees and hopes to interest all gardeners to join the movement to support native bees. 
For more information on the work Praf and Pollinate Canada are engaged in, please visit www.PollinateCanada.ca
Safe Program Access
You will be asked to complete a mandatory paperless COVID-19 Self-Assessment on site prior to your participation. Please review our Health and Safety Policies and Refund Policy and Terms of Agreement.
This is a Family Program at TBG. Adults will only be allowed to attend the program when accompanied by a child 16 years of age or younger.
Registration Deadline: Monday, June 20 at 12:00pm.