"IAM" Outdoor Installation + Experience by Radha Chaddah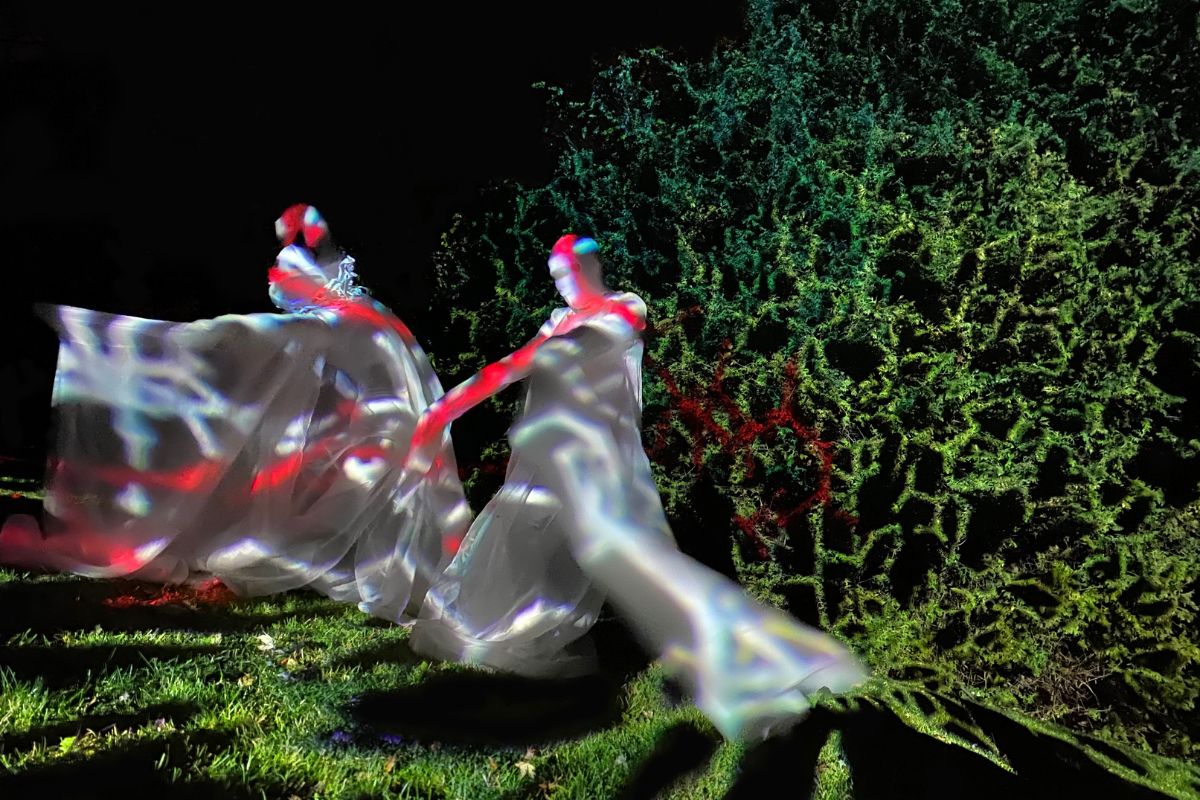 IAM is a performance installation with a stage made entirely of projected imagery cast onto trees and grass in Edwards Gardens. Audience members will be seated or can stand on grass at the edge of the stage, as the dancers play amidst vividly coloured, animated 3D imagery. The immersive visuals take the viewer into a vastly magnified microscopic realm, as the projected imagery was produced and photographed in laboratories at the University of Toronto. This represents a symbolic re-framing of our relationship to the natural world, reminding us that we are only a small part of the evolutionary narrative of life on earth. Following the live performance, the audience is invited to experience the stage as a light sculpture installation. You'll have a chance to explore the space and discover the change of perspective in the projected scenography while becoming enveloped in the intricate light patterns of molecules, bodily tissues, and energies.
Wednesday, September 27, 2023
7:30 to 9:30 p.m. – Artist Talk + Live Performance
Join us as we sit down for a behind-the-scenes presentation by Toronto-based visual artist and scientist, Radha Chaddah who will explain her work and the process of creating "IAM" followed by the live outdoor performance and immersive experience in Edwards Gardens.
$5 Public; Free for TBG Members
Doors open at 7 p.m.
9:30 to 10:30 p.m. – FREE Live Performance
The second performance of "IAM" is for those who wish to experience the performance only without the pre-show talk. This performance is free of charge. Please register to allow us to prepare for your arrival.
Please note, that the performances take place outdoors. Please dress with the weather in mind and bring a blanket if you'd like to sit on the grass. We have a limited number of accessible spots for the performance. Please let us know your specific requirements so we can plan for your visit.
ABOUT THE ARTIST
Radha Chaddah makes art about invisible realities using light as her primary medium. Her work examines the interconnectedness of our material reality from the micro to the macro. In her studio, she designs large-scale projected light installations for public exhibition. She prepares samples and shoots much of this imagery in laboratories at the University of Toronto. Her photographs and light installations have been exhibited across Canada. For more information visit radhachaddah.com.
ABOUT IAM
IAM (ee-yam), Latin for 'now,' is about human enmeshment within nature, and the perspective we gain when we consider parallel, non-human narratives. It follows the story of the pandemic through four distinct material realms—Molecular, Human, Earthly and Cosmic.
Safe Program Access
To ensure the safety of our participants and instructors, all staff, volunteers, and participants are welcome to wear masks indoors and maintain physical distancing.
To learn more about what we're doing to make your next visit safe, enriching, and uplifting, please review our list of Frequently Asked Questions.
Please review our Refund Policy and Terms of Agreement.
This is an in-person, indoor/outdoor program at the Toronto Botanical Garden.
We appreciate your support and cooperation.
Registration Deadline: Wednesday, September 27; 6:00 p.m.