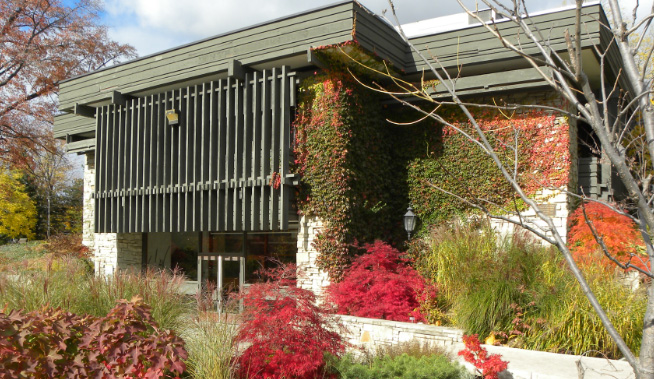 The Toronto Botanical Garden began and still is a gardening education and information centre. The TBG is both a building and a spirit. The architecturally significant building is located in Toronto's Edwards Gardens. The spirit is a compilation of hopes and dreams of many people – from those who first settled the property to those who are drawn here today because of their love of gardening. People tell us that they feel good as soon as they enter the building; we hope you feel that way as you find your way through our web site.
TBG's partnership with the City of Toronto
Because of our location, many people believe the TBG and Edwards Gardens are synonymous. We're not. Edwards Gardens is a public park, owned and administered by the City of Toronto. The TBG is a volunteer-driven charity dedicated to disseminating horticultural and gardening information. But we both share a history and a debt of thanks to the City of Toronto for their ongoing support and encouragement.
Shared Roots
In 1817, Alexander Milne, a Scottish miller, settled his family and built his business on the site that we now know as Edwards Gardens. The land stayed in the Milne family for over a hundred years.
Subsequent owners made some improvements, but the massive property eventually became over-grown and weed-ridden. That changed in 1944, when a Toronto businessman, Rupert Edwards, bought the property to fulfill his dream of "a place in the country…..with wide open spaces all around, with plenty of room to move and breath".
Edwards transformed the property into a glorious garden, boasting one of the largest rockeries in Canada, a private 9-hole golf course and a safe haven for the abundant wildlife. Ten years later, when the city began to encroach upon the property, Edwards decided to sell. Wanting to preserve the estate as a public park, he sold it to the then Metro (Toronto) Council.
In 1956, Edwards Gardens was opened to the public and the Garden Club of Toronto shared Milne House facilities with The Federation of Ontario Naturalists. The Garden Club dreamed of establishing a centre which would provide horticultural information to Torontonians; the Toronto Botanical Garden was the result of that dream.
Since then, the TBG has greatly expanded its programs and services. In 2006, the Toronto Botanical Garden (TBG) opened a series of  contemporary themed gardens spanning nearly four acres. These unique green spaces are designed for Torontonians and visitors to enjoy and engage in the splendour of nature, while learning practical applications for their own gardens. The gardens reflect the scale of a typical urban setting, making it easy for visitors to translate the ideas presented into their own gardens. The gardens are open year-round from dawn until dusk and admission is free of charge.
The TBG also offers a complete range of indoor and outdoor learning experiences for all ages including courses, lectures, workshops, special events, garden tours and an extensive horticultural library. Children's programs for schools, community groups and individuals take place year-round in either The James Boyd Children's Centre or outdoor Teaching Garden located within Edwards Gardens.
The George and Kathy Dembroski Centre for Horticulture, renovated in 2005, has won a Toronto Green Award and has received a silver-rated LEED Certification (Leadership in Energy and Design). This building exhibits an impressive 5,000 square foot glass pavilion, topped with a sloping green roof which helps reduce heating and cooling costs and manages stormwater runoff. The numerous halls and studios with adjoining open-air courtyards in this building are ideally suited for weddings, business meetings and other private functions.
In spite of change, the TBG is still true to its roots; it exists to encourage, inspire and inform gardeners. With the addition of this web site and our enewsletter, we're able to reach many more gardeners and potential gardeners. We hope you enjoy the site and find the information useful. Happy gardening!