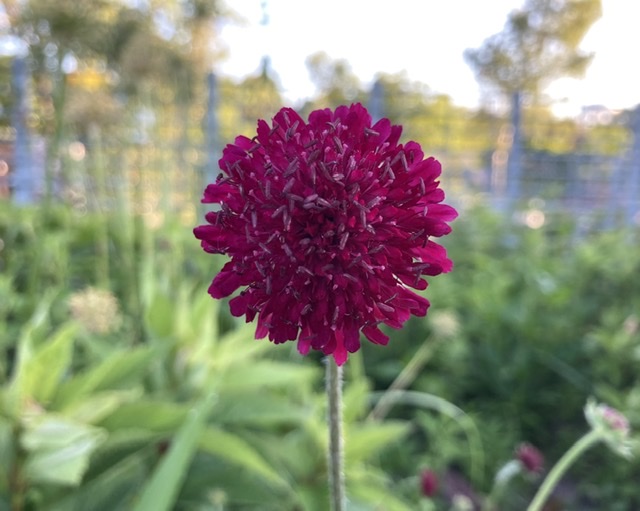 Knautia macedonica – A Prince of the perennial border. This beautiful pincushion flower blooms from June to September. With crimson flowers, it's airy habit makes it a good fit for almost any garden. Although plants can be known to be short lived, they tend to reseed randomly throughout the garden ensuring you will enjoy them for years to come. It's also a Butterfly magnet! You can find this perennial dotted through many of the gardens of the TBG.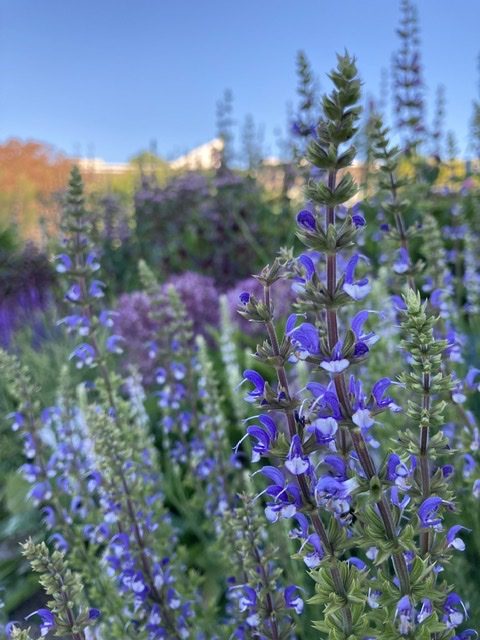 Salvia nemerosa Lyrical Silvertone ('Balyricsil') is commonly known as Lyrical Silvertone Meadow Sage. This is the first bi-colour salvia to hit the market. A beautiful plant, easy to care for, attracts pollinators, and is a colour match to many other perennials of the late spring/early summer garden. Once these finish blooming, cut them down to the base leaves, and quite often they will bloom again and adorn your late summer early/fall garden with a second flush of blooms. You can find this in our entry garden.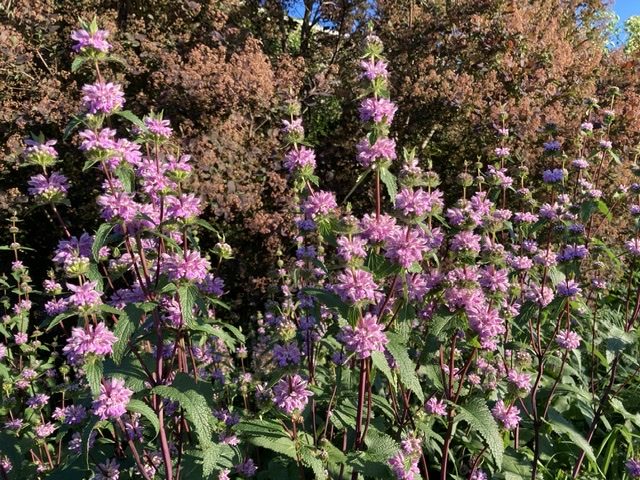 Phlomis tuberosa 'Amazone' is a unique plant with whorls of lilac blooms, and architectural seedheads. Known for its long bloom time, and for being a pollinator magnet. The Phlomos is reminiscent of a bloom from a Dr. Seuss book; this flower is sure to delight gardeners of any age. You'll find this in bloom right now in our entry garden.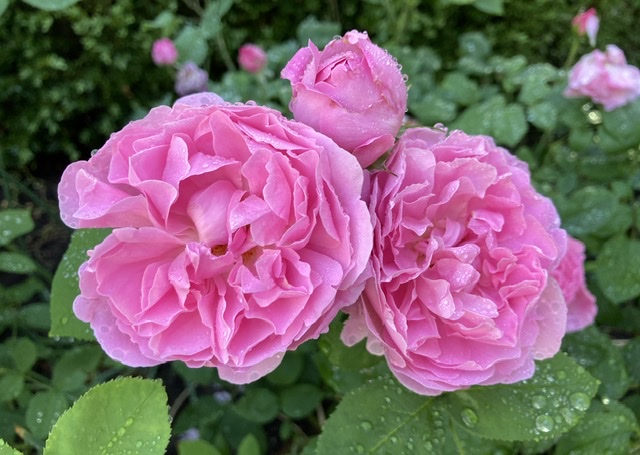 Rosa Mary Rose = 'Ausmary' from the David Austin Series of English Shrub Roses.  Mary Rose – named for Henry VIII's Flagship. This is one of the most outstanding of the English Roses, located just outside the Garden Shop windows on the way to the Westview Terrace. Hybridized by David Austin in 1983, unlike many other roses, this rose is known to be happy in a partly shaded location.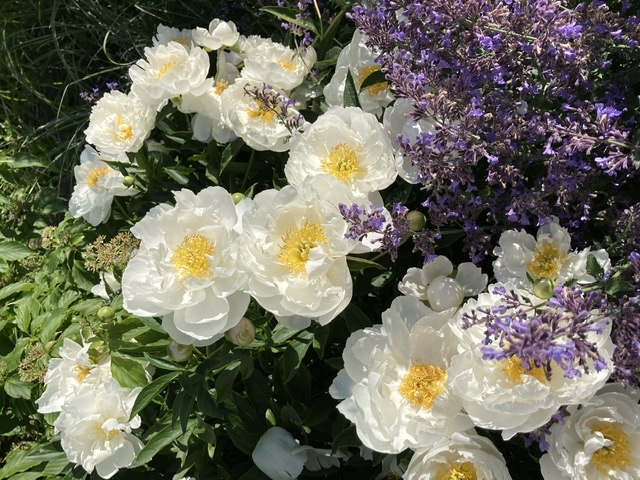 One of Paul Gellatly's top five favourite Peonies, this one can be found at the top of our perennial border paired beautifully with nepeta. Paeonia 'Miss America' was registered in 1936 by Mann and van Steen. A two-time winner of the American Peony Society's Gold Medal steals the show in every garden with its large white semi-double blooms; which also happen to be wonderfully fragrant. 'Miss America' has become the standard by which all other semi-double whites are judged.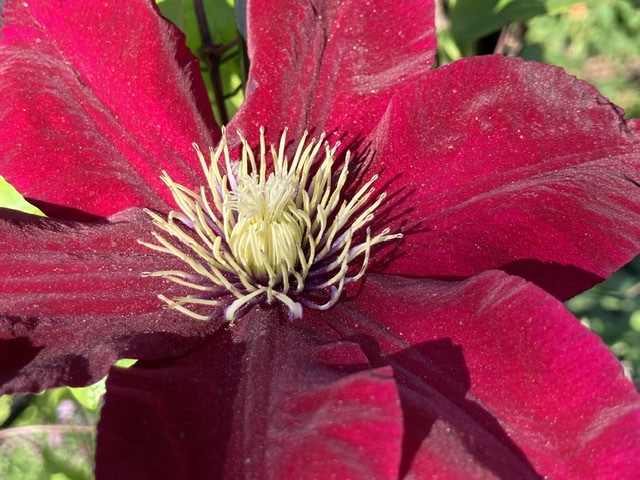 One of Raymond Evison's collection, a world leader in Clematis hybridizing.  'Charmaine' (Evipo022) is an amazing intense red clematis that produces double,  semi-double and sometimes single flowers. This clematis is sure to stop you In your tracks can be found in our showcase garden, along with a few other Raymond Evison creations.
Today's flowers are tomorrow's food. The Kitchen Garden has started showing signs of growth. These 'Roma Big Momma' blooms will turn into a tomato that resembles the Roma tomato, but with a size comparable to a beefsteak tomato. This cultivar is known as one of the best paste tomatoes; excellent in sauces. Last year approximately 225 pounds of vegetables grown in our gardens were donated to the North York Harvest Food Bank.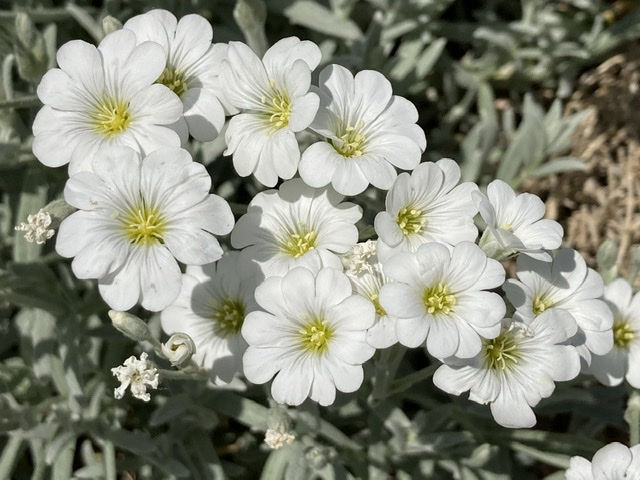 Cerastium tomentosum, commonly known as 'Snow-in-Summer' originating in alpine areas of Europe, is an excellent rock garden plant. Felt-like silver foliage topped with ample white blooms; what more could you want! Hardy from zone 3-7. This beautiful little gem is a member of the carnation family, and is deer resistant!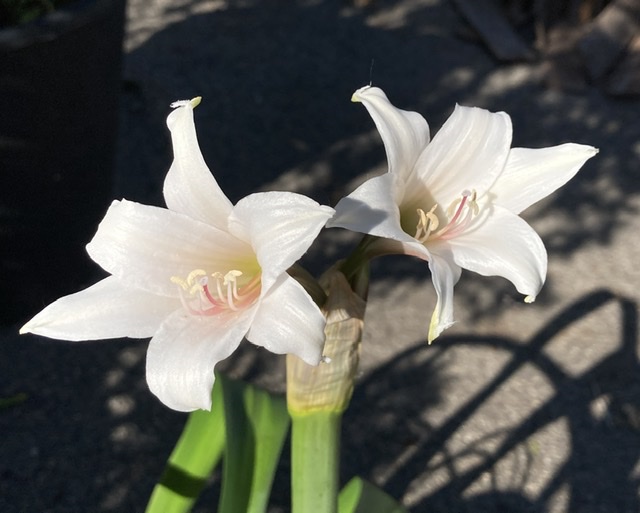 A recent addition to the plant collection at the TBG, this Crinum bulbispermum is native to South Africa, Lesotho and Swaziland. This plant was donated by a gardener in Kingston that has been successful wintering this over for 10 years outdoors. We're excited to follow his directions, and see if we too can over winter this South African beauty. The Crinum bulbispermum flower is the floral emblem of the Free State province of South Africa. It will soon be planted along our water channel.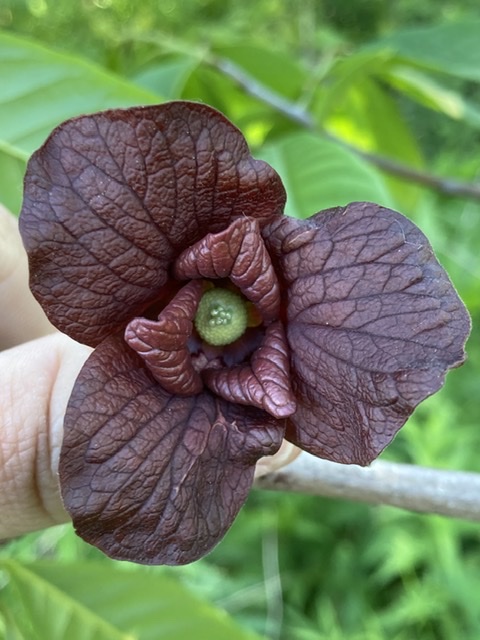 A unique and rare Carolinian species, native to Southern Ontario; and the USA. Pawpaw trees are dioecious, meaning the tree is either male or female, and to produce fruit you must have at least one male and one female. Pollination is done by beetles and / or flies. The rate of pollination is very low, and home gardeners may need to pollinate their trees by hand. Pawpaw fruits have a sweet custard-ish flavour, somewhat likened to banana, mango and pineapple.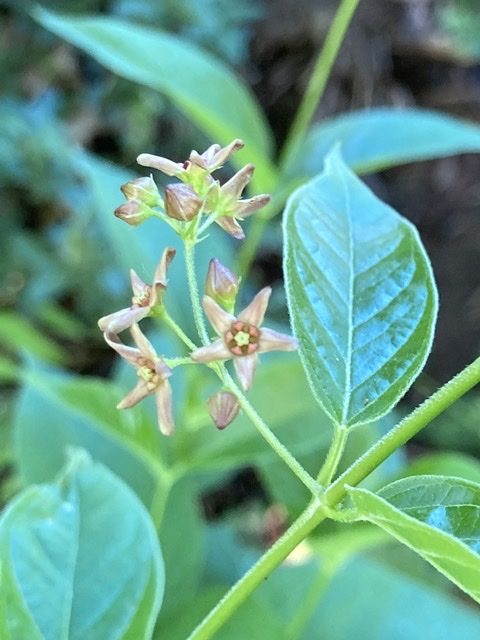 Friend or foe? Definitely NOT a friend. One of the truly alarming invasive species is the Vincetoxicum rossicum, or Dog-Strangling Vine. This plant forms dense patches that overwhelm and crowd out native plants and young trees. This plant can produce up to 28,000 seeds per square meter; and those seeds are easily spread by the wind. New plants also grow from root fragments. We are doing our best to control this menace at the Toronto Botanical Garden. For more information please check out www.invadingspecies.com/dog-strangling-vine/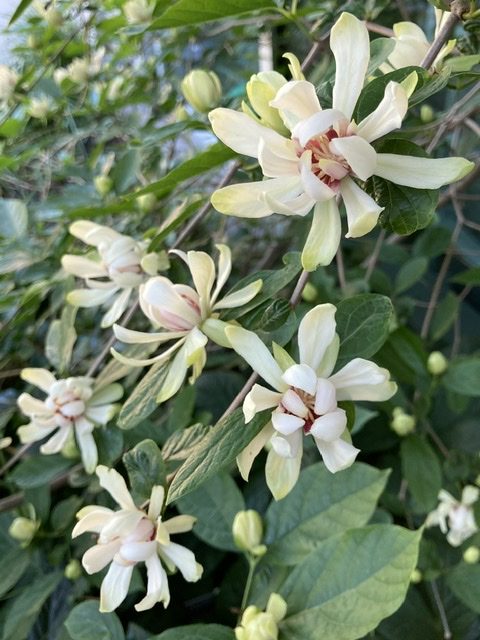 Calycanthus 'Venus' is a hybrid Carolina allspice, with large, fragrant blooms. Most floriferous in late spring/early summer; it is known to put out smaller flushes of blooms throughout the summer. Aside from it's beautiful fragrant blooms, the foliage matures to a golden yellow in Autumn. This plant is considered to be the crown jewel of Dr. Tom Rainey's breeding program at North Carolina State University, and the Plant patent was issued in 2005.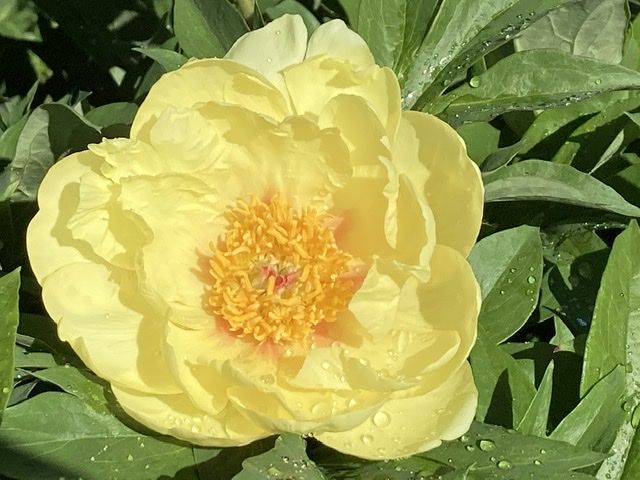 Itoh Peony 'Sequestered Sunshine' is a beautiful hybrid from R.F. Anderson, first bloomed in 1987, was divided in 1990, and registered in 1999. At the time, this was the brightest yellow peony created. This is a seed parent out of Peony 'Miss America' which is our Director of Horticulture Paul Gellatly's personal favourite! This peony can be found blooming in our perennial border.  Peony season is just starting to ramp up with beautiful blooms all around the garden. With the heat expected this week, the peonies won't last long. Make sure to plan your visit soon!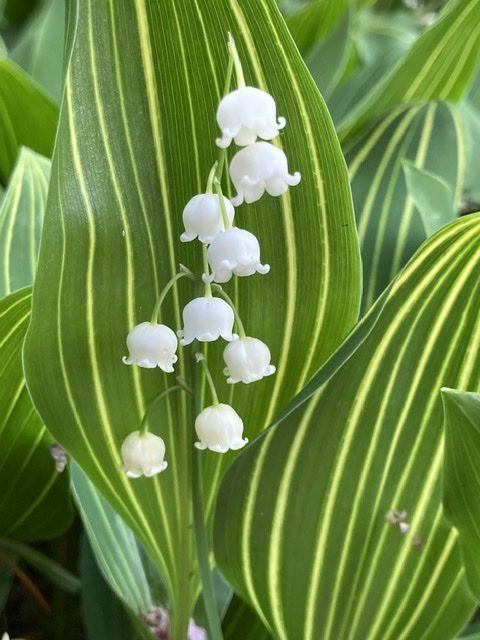 Fragrance, Foliage, and Berries oh my! Convallaria majalis 'Aureo-variegata' is a beautiful ground cover addition to a shade garden, but you'll still want to keep your eyes on it.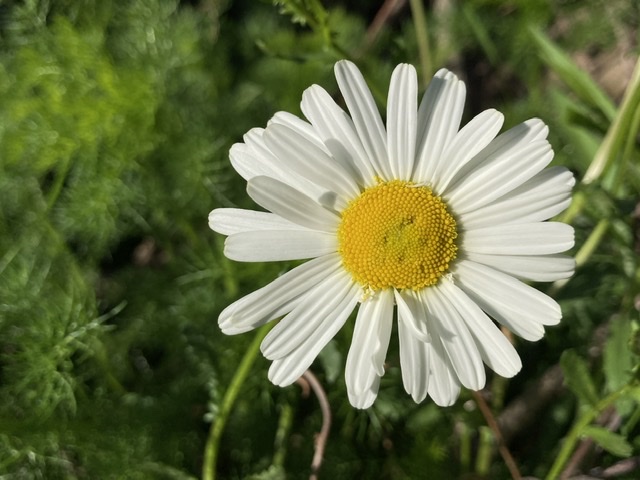 He loves me… He loves me not….  Leucanthemum vulgare, commonly known as the ox-eye daisy is native to Europe and temperate Asia, but was introduced and naturalized to North America, Australia, and New Zealand in the early 1800's as a grass seed contaminant.   Later it was cultivated, and can still be found in some wildflower seed mixes.  
Geum rivale is a moisture loving plant, native to much of Europe, Central Asia, and North America.  Known to Bloom from May to August, although dead-heading spent blooms will encourage continued flowering.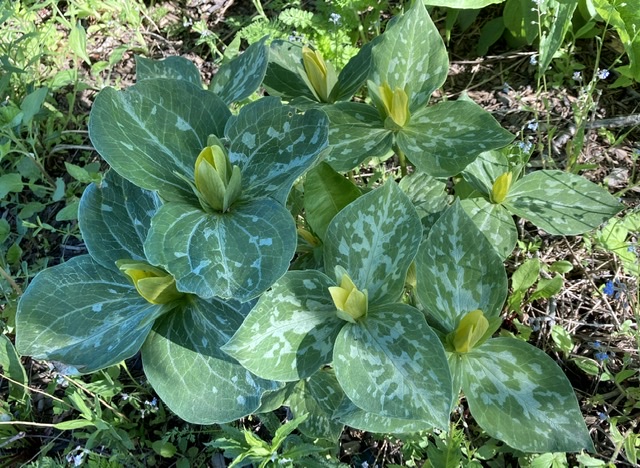 Trillium luteum, commonly known as a Yellow Wakerobin, a less commonly seen trillium native to North America. Blooming in our woodland walk this week!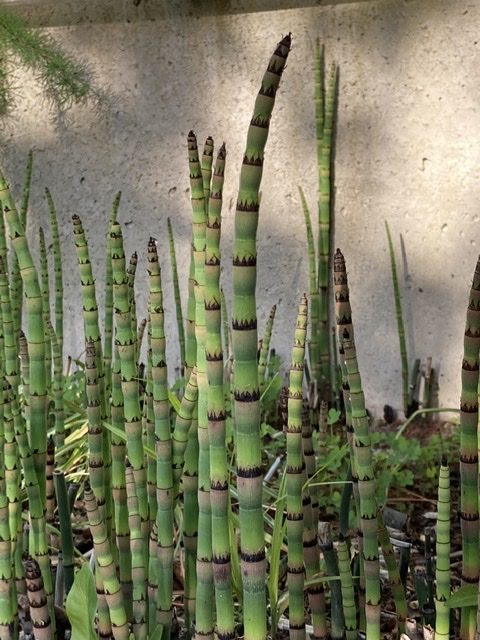 Equisetum hyemale, commonly known as Rough Horsetail.  Native to North America, Europe, and Northern Asia. They are known as living fossils, as they are the only living genus in Equisetaceae, a family of plants which reproduce by spores rather than seed!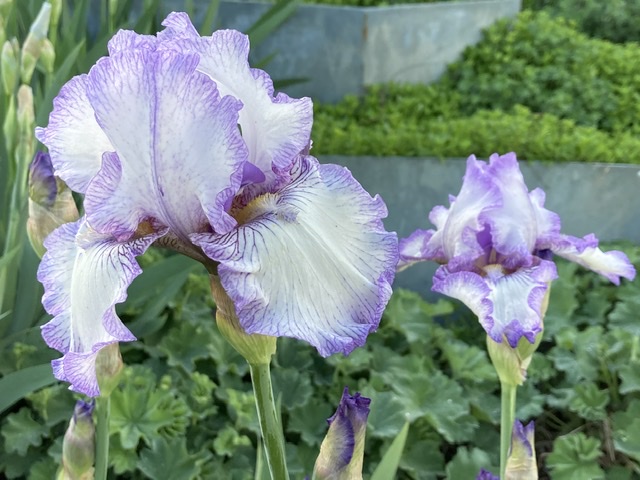 Tall Bearded Iris 'Earl of Essex' hybridized by Lloyd Zurbrigg and was registered in 1980. One of the earliest TB Iris to bloom here at the gardens.