Registered by Stout, in 1947, this Hemerocallis 'Variegated Kwanso' has inconsistent variegated foliage and a double orange bloom.  The inconsistent variegation can be seen in the patch in the perennial border at the TBG.  Many of the fans have little to no variegation, while others are heavily variegated. Stout is considered to be the father of Daylilies, as he is one to first to hybridize Daylilies and record the results.  The Stout Silver Medal (Top Daylily award given out to one Daylily every year, from 1950 to today) is named for him.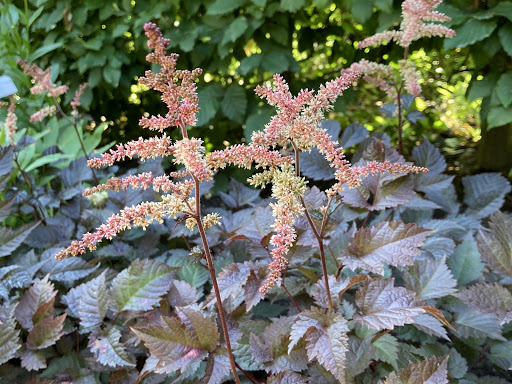 Astilbe thunbergii 'Chocolate Shogun' found in our showcase garden is unique in its foliage colour, and quite striking with its pink/apricot blooms that dance above the foliage like streaked clouds.  This creation is from Japanese plant breeder, Nagasaki Teruhisa, who selected it from a seed batch of Astilbe thunbergii, only making it available to gardeners in the last 5 years or so.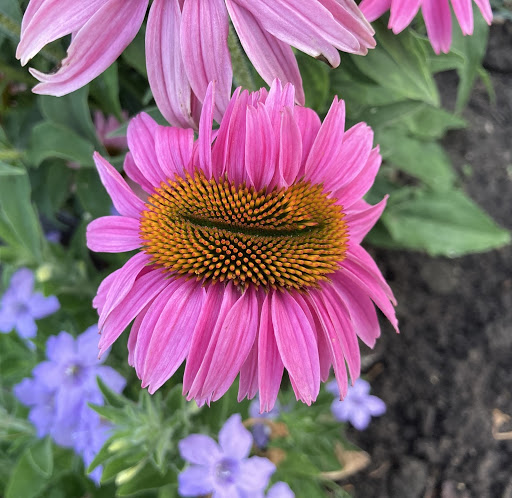 Smile! Fasciation has always been fascinating! Fasciation is the term for this natural mutation That is found in more than 100 plant species; including some mainstream landscape plants like Rudbeckia, sunflower and gaillardia, and of course Echinacea.  The stem immediately below the bloom is often flattened, and there are many different extremes fasciation can take on a bloom. Next time you're looking around a patch of Echinacea, or see a mutated bloom, it may just be Mother Nature showing her sense of humour.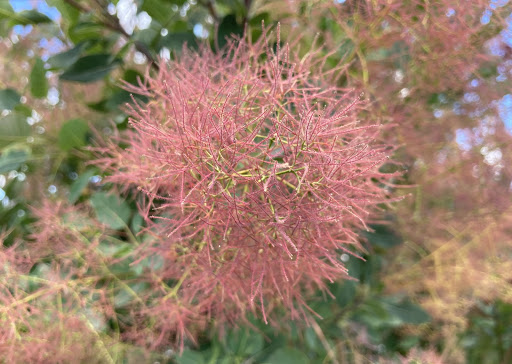 Cotinus coggygria (Smokebush) can be found anchoring the Piet Oudolf planting in the entry garden at the TBG.  This beautiful large prized shrub, can be seen with pink-red feathery plumes which resembles smoke (Hense it's common name) from the far end of the walkway.  Even when not 'smoking', earlier in the season; the Cotinus demands respect, and attention with its purple foliage and bold stature in the garden.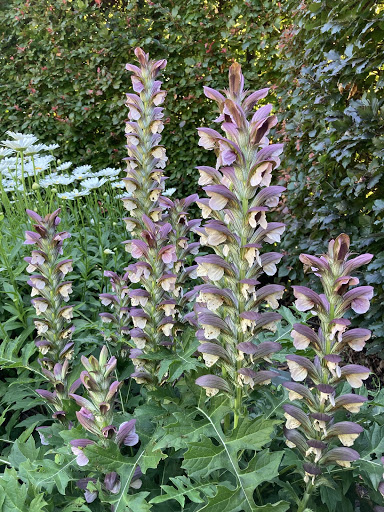 Creating a lot of discussion around the garden right now is the Acanthus mollis (Bears Britches).  Native to the Mediterranean region from Portugal and northwest Africa east to Croatia, it is one of the earliest cultivated species.  Nestled into the knot Garden, it's a tough plant to miss.  Grown ad much for its unique shiny foliage as it is for its architectural blooms.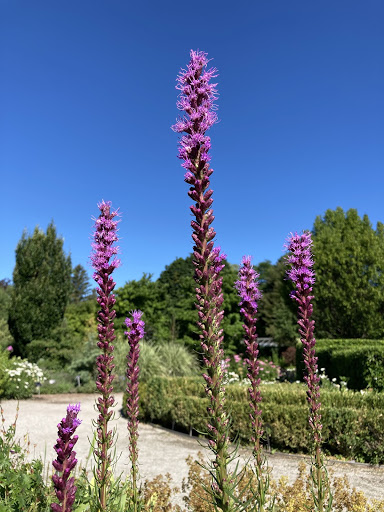 The Liatris are just starting to bloom all around the Gardens at the TBG.  Found in both pink and White; the nectar and pollen from these plants are important sources of food for butterflies, bees and hummingbirds. Letting blooms go to seed provides food for birds such as goldfinches. Considered a native of North America, a few species are even native to Ontario.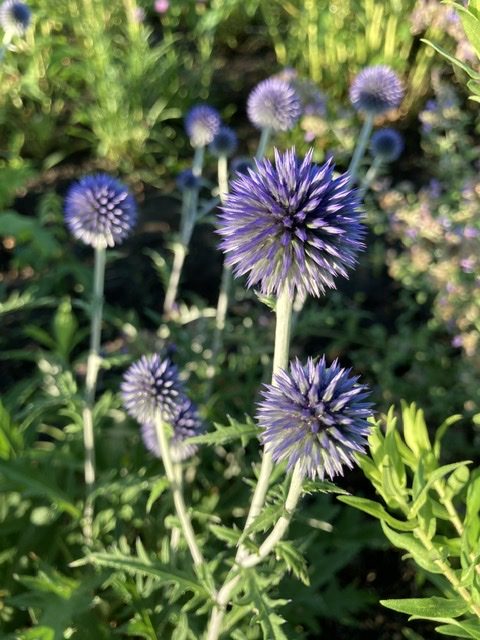 A wonderful addition to any perennial border for summer bloom is the Echinops, native to Europe, east to Asia, and south to tropical Africa. Commonly known as the globe thistle, this beautiful blue flower adds drama, texture and colour to the summer garden.  It's also very pollinator friendly; often seen with bees and butterflies. Found in our entry garden it's just starting to bloom, and will be in bloom for the next few weeks.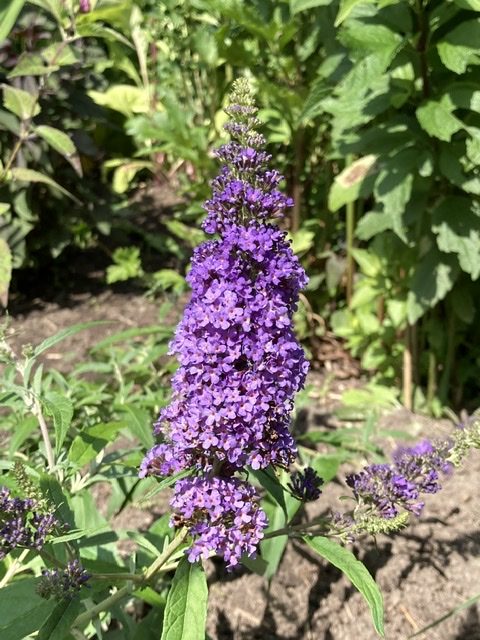 A recent addition to our perennial border, the butterfly bush is a butterfly and bee magnet! A long blooming plant / shrub can be temperamental in getting it to over winter, although it's said to be hardy, a bit of extra winter protection can't hurt!   It's beautiful arching blooms fill the July and August Garden with colour, form, and fragrance. New cultivars have recently come out that stay small 2-3' while some older cultivars can reach 6-8'. This cultivar is Buddleia Buzz 'Sky Blue'. They come in a range of colours in various shades of Pink, Purple, White, and even Yellow.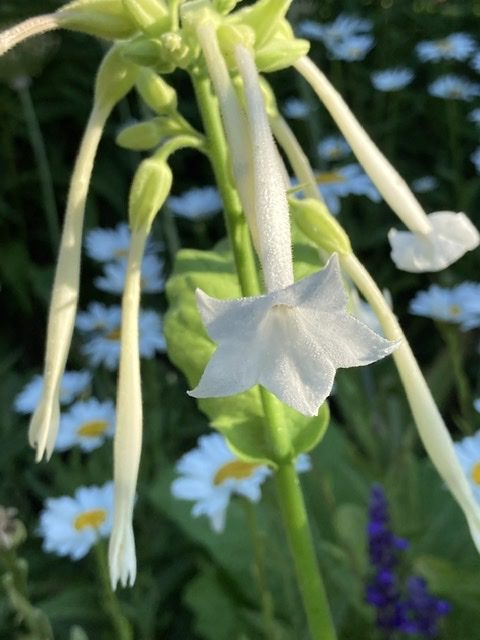 Nicotiana 'Only the Lonely' is a stately annual, with large leaves, and trumpet white blooms. A South American heirloom cherished for its intoxicating fragrance.  A favorite of Victorian gardeners, 'Only the Lonely' releases its strong heady perfume in the evening hours, making it a perfect variety for moonlit terrace gardens, or next to a deck. Frequently visited by evening pollinators, and a favourite of hummingbird moths.  Found in the knot garden, if you've visiting the garden in the evening, be sure to stop by and enjoy the fragrance.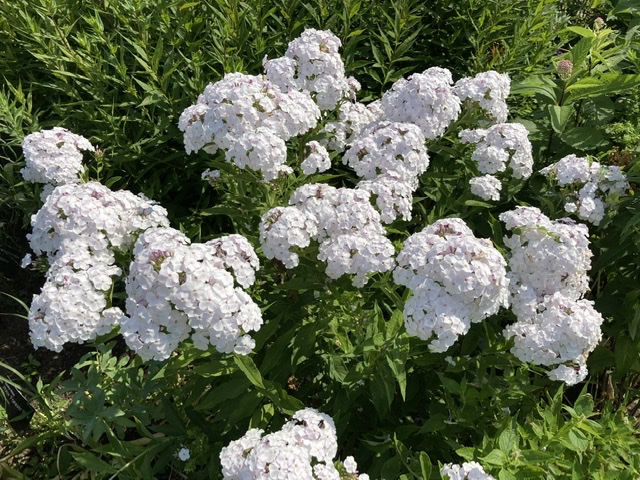 Reminiscent of billowing white clouds, this fragrant perennial is a must have in every sunny perennial border.  The Garden phlox (Phlox paniculata) with blooms that can last 4-6 weeks often blooms in the middle of summer. It is a native to Eastern United States and Canada, although most plants that are commercially available are cultivars.   They come in an array of colours, making them easy work with any colour scheme in the home garden. Give Garden Phlox plenty of space around them, especially in hot, humid areas where air circulation around the plant can help keep powdery mildew to a minimum. It's important to use the recommended spacing on the plant tag, which is usually 18 – 24 inches.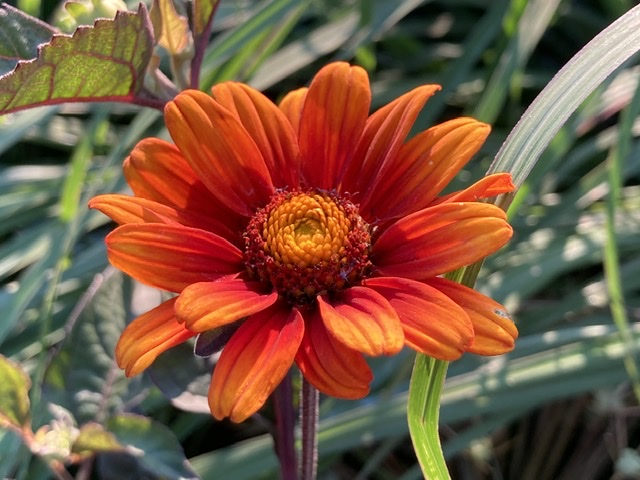 Heliopsis helianthoices var. scabra 'Bleeding Hearts' has only been on the market since 2018, and is a delight for the summer garden. This tall, upright, clumping plant has purple-tinted leaves and black stems topped by red-orange, daisy-like flowers, which is also pollinator friendly. Winning combination! Found in the perennial border at the TBG.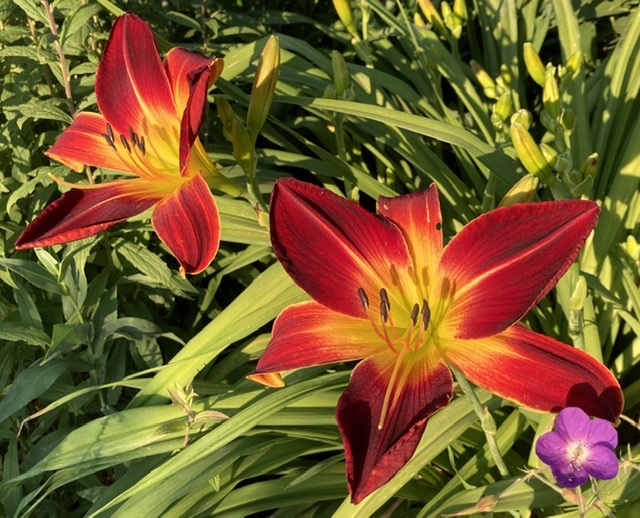 Hemerocallis 'Ruby Spider' is one of the best red's commercially available. Hybridized by Stamile and registered in 1991, this 9" bloom stands out in any garden.  With each bloom only lasting one day; be sure to stop and appreciate the Daylilies. Seen in a few of the gardens at the TBG, including the perennial border.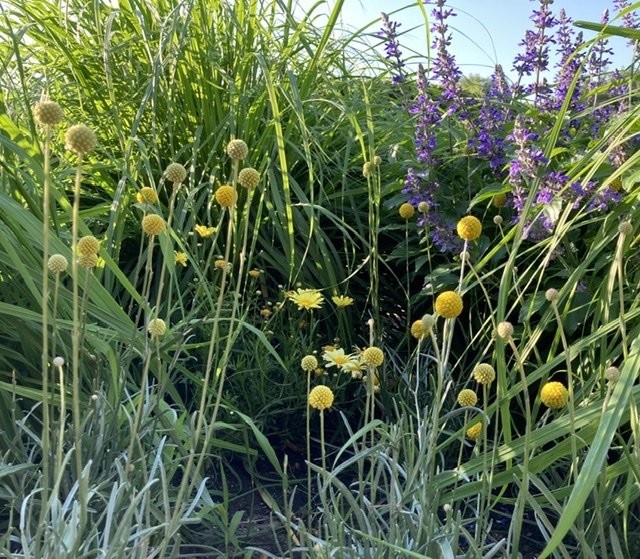 Craspedia globosa (Billy Buttons) – Hailing from the plains of eastern and South Australia. These whimsical yellow globe flowers seemingly and literally dot themselves through the garden by the entrance to the TBG. Not commonly seen, and not sure why! Visiting a Botanical Garden is the best place to discover new plants and new pairings.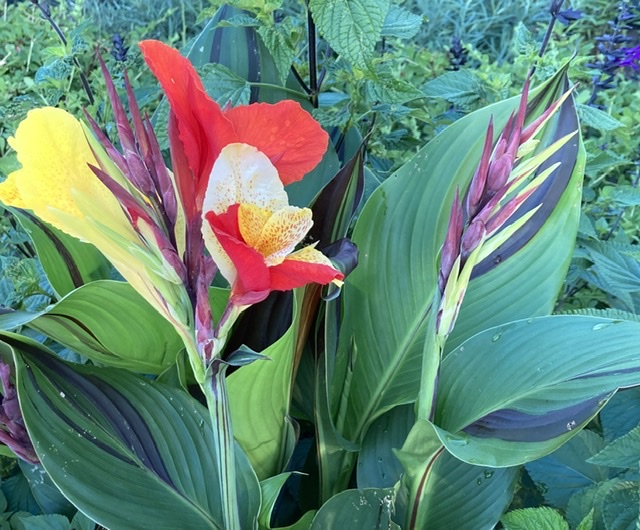 There's no denying the flare seen in this Canna lily 'Cleopatra'. Seen in catalogues in the US since the 1960's this spectacular cultivar is not new to gardens in North America, although new people discover, and love it, every year. This green and red canna, has varying degrees of each colour, on every plant. The flowers are yellow, or red, or a combination of the 2.   Perfect when you can't decide between a red or a green leaf; or a yellow or red flower, just get Cleopatra! Problem solved. Found at the TBG in the planter near the spiral mound.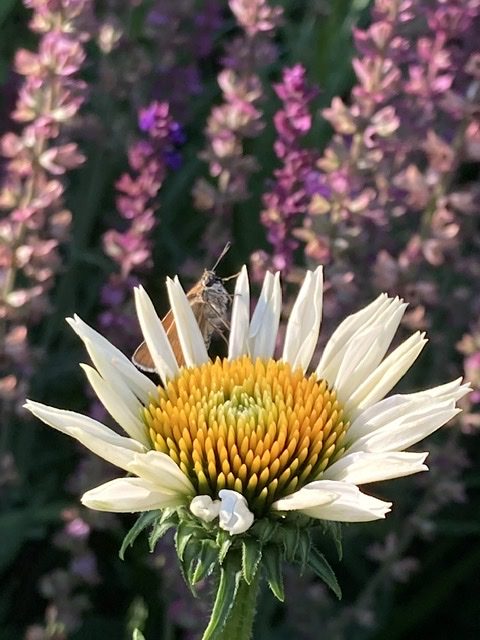 Peek-a-boo, This small skipper (seen at the back of the flower) is a shy small butterfly that skips quickly between flowers.  A frequent visitor to the Echinacea; seen in this photo is Echinacea 'White Swan'. 'White Swan' was introduced by Thompson & Morgan in 1987, making it a proven perennial performer for over 30 years.  Echinacea's are great perennials for summer blooms, and are seen in gardens all around the TBG. There have been a lot of advancements in the hybridizing of Echinacea over the past several years, making them now available in many colours, forms, heights, and sizes.  Making them a perfect addition to any garden.