October 30, 2022 – One year ago today, I received a very important call. It was the call from TBG's headhunter saying that the field had been narrowed to the finalist and that the board would like to progress the conversations of me leading the Garden forward. My heart skipped a beat.
I want you to know that I was very particular about where I would dedicate this next chapter of my career. I was intentionally seeking a garden that inspired me, that was ready to grow, and that uniquely needed my skill set. Furthermore, I made the commitment to my family that our next move would be to a city where my entire family could thrive. Not an easy list to achieve, but I was steadfast in my search.
One year later, I have no doubt that I have met my match. My passion for Toronto Botanical Garden runs deep and so does my constant mapping of how together we continue to grow from where we are today.
Shortly after I arrived in January 2022 one of the TBG team members asked me, "Why did you choose us, when you could have gone anywhere?" And my answer was simple and honest—because I knew I could make a difference at TBG, that I was inspired by TBG, while also knowing that the TBG needed a leader that was ready to listen deeply, dream boldly, lead diligently, and build strategically.
Stepping into the role of Executive Director in January 2022, was an interesting time to start a new job. Following 23 months of lockdown in Ontario, with a lot of unknowns for what our next normal would look like, I was determined to bring new energy and confidence to define the path forward. And here we are, ten months later, having achieved so much.
Our staff and volunteers have been running fast to reopen, relaunch, and refresh. And now in these lingering autumn days, I want to share some insights on what we have accomplished, what we are focused on, and what lies ahead.
Stabilizing the Organization and Preparing for Future Growth
On February 24, 2022, we re-opened the George and Kathy Dembroski Centre for Horticulture. Opening a building that had been closed and minimally used for 23 months is no small feat. Dusty, tired, and filled with lots of stuff that needed to be moved along, our team has spent the last 10 months infusing pride in the building and lightening our load. While we have made lots of progress (three 40-yard dumpsters later, and weeks of deep cleaning), we still have more to accomplish. With the distinct goal of making the building a plant place, we have been consistently adding interior plants, with a significant addition of stunning specimens in the past few weeks thanks to a restaurateur gifting us their outdoor patio plants.
We are also focused on being a learning and community place. Through pandemic relief grants we have been able to replace many of our tables and chairs, and we are working toward AV upgrades to enhance our learning environments. As the weather turns colder, we are also awaiting the delivery of new interior benches, making our common spaces more welcoming and accessible.
And all this progress on the building prepares the Garden to expand upon our learning experiences, including the relaunch of children and family education programs, the introduction of author talks, the expansion of our musical offerings throughout the winter, and so much more.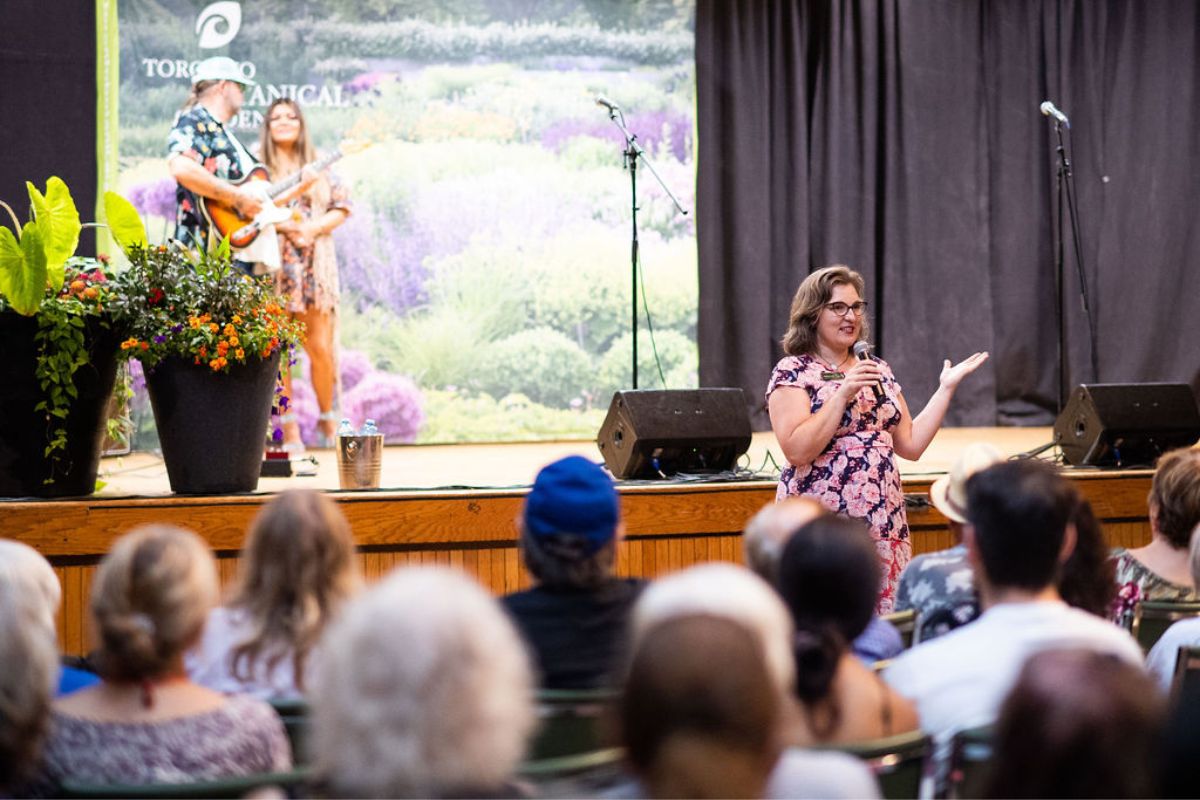 Enhancing our Financial Position
One of my first tasks was establishing a 2022 budget—guiding how the organization will emerge out of the pandemic strategically focused on reactivating the site, increasing engagement in the mission, and increasing revenues. Together the staff and the board generated more than 177 ideas on how we could achieve this reactivation and increase engagement. Top of the list was arts in the garden, pop-up markets, plant swaps/sales/exhibitions, food and drink festivals, and connecting with city-wide celebrations. These ideas fueled how we planned for the year and what we continue to work on for the upcoming year.
We relaunched signature programs that had been on hiatus including our Spring Plant Sale, Through the Garden Gate tour, and the Edwards Summer Music Series—we welcomed back our steadfast supporters while also meeting many new visitors. We tested and experimented with a wide range of new efforts from Pop Up Plant Sales to an aerial Circus + Dance in the Garden, an Eco Market for Earth Day, and Author Talks —we continue to bring new opportunities forward with the goal of engaging our current audience, while steadily expanding our audience.
To be honest some things have been a tremendous success and others have been a learning experience. I tell the team, if we are not learning we are not growing. And I can assure you, that at TBG we will continue to lead in new ways, and we will learn, calibrate, and grow—after all we are a growing place.
Alongside activating the site, we also focused deeply on the care of our gardens. As a horticulturist and fellow garden lover, I will be the first to tell you that our gardens are in need of significant care and revitalization following years of being under-resourced. This year we were able to bring our Seasonal Horticulturists back for an extended season thanks to the generous support of donors. Starting in February the team set to work on winter tree pruning. And we have worked diligently over the summer to enhance horticulture. Through grants such as Pollinate TO and the support of private donors, we have replaced many invasives or non-native plants with pollinator-friendly plants, along with revitalizing garden beds and replacing trees that were at their end of life. Ball FloraPlant partnered with the Garden for a second year to bring an abundant array of new annuals to our garden. And our volunteer force returned to the Garden with enthusiasm and passion, working steadily with our team. Once again, we have made progress this year, but we do have a significant amount of work ahead of us to revitalize our horticulture, curation, and collections management after years of underfunding.
These signs of positive growth and stability are also reflected in the financial statements. In the midst of the pandemic, the team advocated for our programming and our mission to successfully attract federal and provincial pandemic relief grants. These competitive grants have been a valuable resource to help TBG cover basic expenses and salary support during the leanest months of the pandemic. The grant funds also provided for one-time investments such as new tables and chairs, AV equipment, staff training, and more that would help us emerge stronger out of the pandemic. The grants served their purpose of helping TBG retain core services and staff. We are indeed better off for their investment. And now we need to work diligently to replace the pandemic relief support with additional earned and contributed revenues.
In 2022 TBG has not had to access our line of credit. And we close October 2022 debt free. Our revenue streams are returning to some level of normalcy as our community comes back to the Garden and the programs that we have all grown to treasure. While we are currently on pace with our budget to date, we will be relying on a strong donor response to our end-of-year fundraising appeal to complete the year in a positive financial position.
Welcoming and honouring our diverse community
The TBG has been actively focused on our Indigenous relationships, being in conversation with our Indigenous Community and the treaty holder, the Mississauguas of the Credit First Nation. We are listening abundantly, learning deeply, and building trust in order to elevate Indigenous voices, values, and traditions at TBG.
Welcoming, honouring, and celebrating our diverse community also extends beyond our Indigenous neighbours and relatives. Earlier this year the TBG was selected to be part of The IDEA Center for Public Gardens™ inaugural cohort. Presented by the American Public Garden Association, with support from Denver Botanic Gardens and the Institute for Museum and Library Services, the year-long program teaches and inspires inclusion, diversity, equity, and accessibility (IDEA) initiatives among the Association's public garden members. Our Garden is one of 21 Gardens across North America intensely learning and reflecting on how we can make public gardens more welcoming and safer places for all.
Deeping our Partnership with the City of Toronto
A central focus this year has been on deepening and strengthening our partnership with the City of Toronto. Toronto Botanical Garden's partnership with the City is twofold—the first as an operator of a community resource on City land and the second as a partner in the stewardship of essential natural spaces that further community and ecosystem health. Together we are breaking the mould of existing partnerships to define what the City and the Garden can achieve together that neither entity can achieve on its own.
Through this public/private partnership, the Garden's charitable status is essential to attracting earned and contributed revenue to operate and advance the Botanical Garden as a community asset. In return, the City supports the Garden with utility costs (water, heat, electricity, gas), along with capital repairs.
In 2022 the City replaced the original HVAC system in the George and Kathy Dembroski Centre for Horticulture and installed a new Building Automated System to control the HVAC. With this new technology, the building's air is fully exchanged every 30-40 minutes, greatly improving air quality. And by the end of 2022, the building will receive a new sump pump station, helping to control rainwater overflow into the basement.
In an effort to continue to strengthen the partnership, the City completed a State of Good Repair assessment of the buildings in early 2022. This assessment provides the City and TBG a road map of the capital repairs needed now and into the future, and a tool to advocate for City capital funding.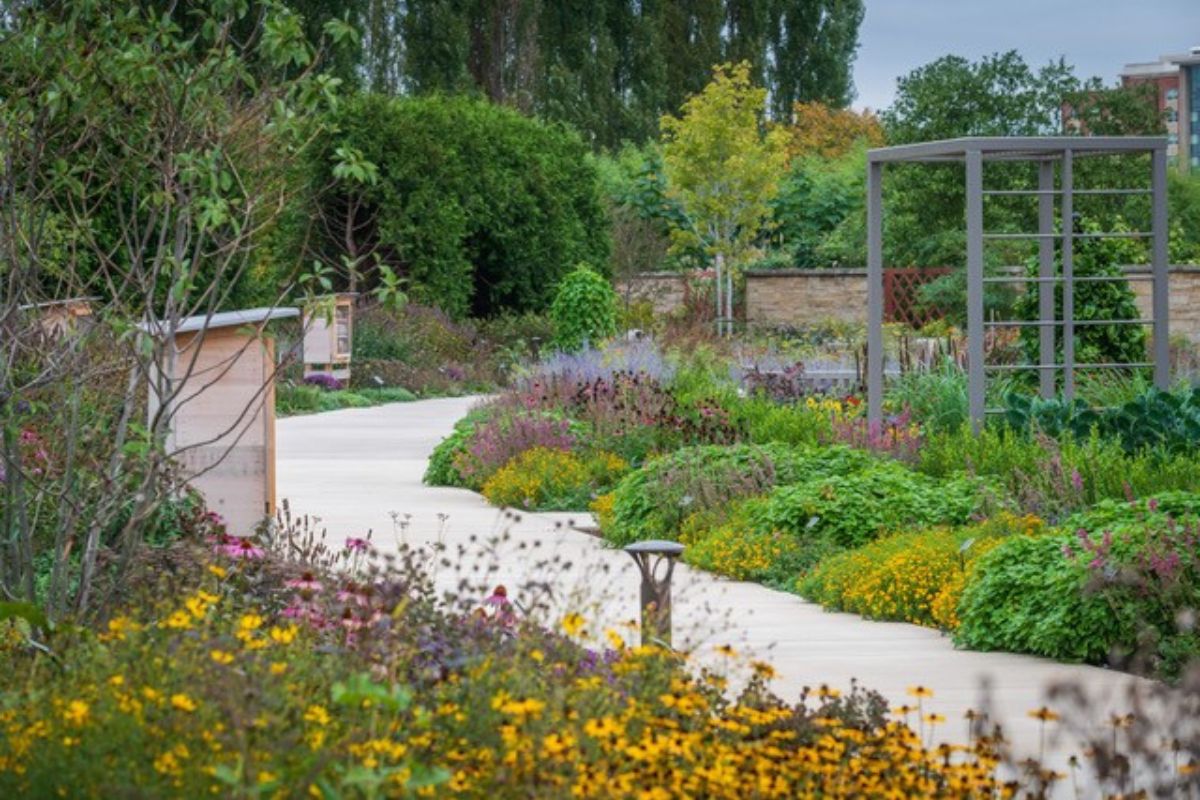 Expansion and Future Planning
The expansion has been a topic of conversation for several years. And I often encounter questions regarding if or when the Expansion will occur. In 2018 the City of Toronto completed a Site Master Plan for Edwards Gardens and TBG. The plan was approved by the City Council, however, expansions aren't built from site master plans alone. Through the generosity of three private donors, TBG has the financial resources to advance the site master plan. In 2021 the board engaged PMA Landscape Architects in this work. As a result, in the past year, the site master plan progressed through the concept design review, which looks at the site from a 10,000-foot view. And in May 2022 the board voted to move into the design development phase, which focuses on the details at the human and building scale. With a site our size, this phase will take a while to get through. We are looking ahead to having a member update on the Expansion in early 2023, engaging you in the progress of the design development, while also looking for your continued input about what excites you for the Garden's future.
Essential to the success of a future expansion is business planning, which is why the TBG is driving to achieve financial and fundraising planning adjacent to the design development phase. This work includes creating multi-year budgets, mapping future capital fundraising to achieve the expansion, and finalizing agreements with the City for the expansion. There are three specific City agreements that need to be in place before we can advance the Expansion, which include fundraising and construction agreements along with an expanded operating agreement. All of these pursuits are reasonable and necessary on the path to our future. TBG and the CIty are actively working on these agreements, and our goal is to have them complete by early 2023.
Expanding the TBG team and our capacity
While I could write for many more paragraphs about the work that has occurred or is in progress, I would be remiss to not mention one of the Garden's most essential assets—our team of dedicated board members and passionate staff.
Key to all of this progress is a strong board partnership. The Board of Directors is deeply engaged and focused on advancing TBG. With a strong board and Executive Director partnership, we are working together to strengthen the Garden's present position, while building toward a bright future.
The staff is inspired and motivated to create and grow TBG into an inspired plant place, a learning place, and a community place. Our organization came through the pandemic with a very slim team. Throughout 2022 we have been working to reinvigorate the team, both in spirit and in number. These hires include replacing key positions across every function from facilities, to finance, to fundraising, program support, and beyond. Recruiting additional team members is essential to maintain the momentum that is underway while bringing stability and capacity to the organization.
Highlighting a few recent hires, earlier this month Natalie Harder joined the team as our new Director of Learning. In this new role and title, Natalie's impact will be to launch the Toronto Botanical Garden forward as an inspiring and engaging learning environment for visitors and program attendees. Natalie will build on past success, while diligently focusing on developing programs that are relevant to the Garden's diverse and evolving audience. With Natalie onboard we are also rapidly working to build out the team, so we can launch into 2023 with more robust learning opportunities for all ages.
We also recently expanded our Development team with the hire of Aleeshia Carman as Grant Writer and Development Coordinator and we are actively recruiting for a Membership Coordinator.
As a leader, I know that I show up to work every day, to work with people. To challenge one another, to partner and co-create, bringing our talents and experiences together to achieve something that not one of us can achieve on our own. And the team will keep growing in these directions.
Looking forward
I hope you agree that we have accomplished so much and that the momentum is underway to achieve so much more. We are grateful for your steadfast support. You are an essential part of Toronto Botanical Garden being an inspired plant place, an engaging learning place, and a dynamic community place.
I invite you to grow with us and to help us grow.
Stephanie Jutila
Executive Director
TORONTO BOTANICAL GARDEN