Urban Ravine Symposium: Unravelling the Question of "How"
November 3
@
9:00 am
–
5:30 pm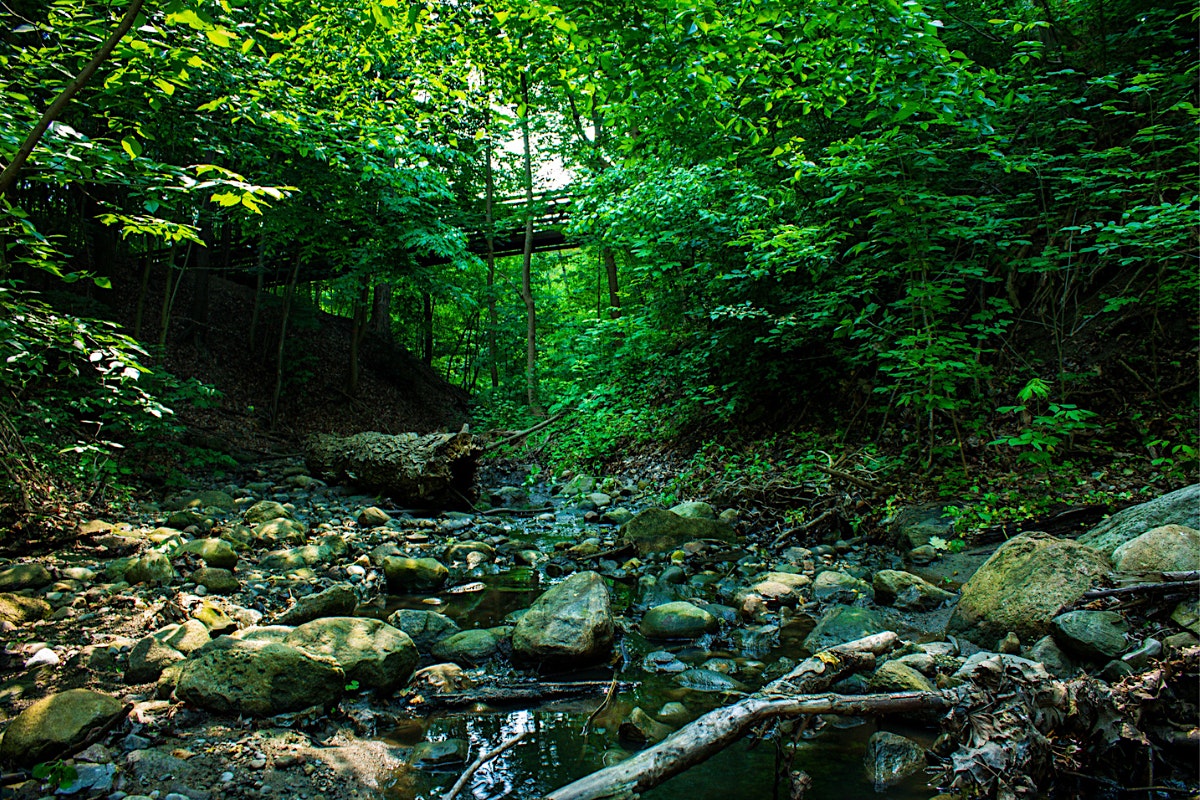 The Urban Ravine Symposium at the Toronto Botanical Garden is back! Started in 2016 as a way to bring professionals, advocates, and passionate community members together to learn and connect over Toronto's incredible ravine system, the Urban Ravine Symposium is back in person in 2023 to explore answers to the question of 'How'.
Friday, November 3, 2023
Characterized by Carolinian woodland and small creeks, the deep ravines that give Toronto its moniker, 'City Within a Park,' face challenges, including invasives, erosion, and inundation. And we ask, How do we foster inclusivity, engagement, and scientific inquiry in Toronto's Ravine System? How do we identify the challenges? Are all ravine systems facing the same issues? Who controls the space, access, and belonging? How can we welcome those who have been excluded? How can we identify technical environmental challenges? How can we share our strengths to get more done together? The goal of this symposium is to begin a conversation, pose more questions, and share tangible answers to these questions so we can begin to care for the ravines and bring our communities together.
REGISTRATION NOW OPEN
Student – any person registered at a secondary or post-secondary institution; $44 (Early bird $35)
Non-profit, equity deserving, or community group; $75 (Early bird $60)
Member–TBG member; $119 (Early bird $95)
Public; $150 (Early bird $120)
DOWNLOAD THE FULL DAY AGENDA: Urban Ravine Symposium 2023 Agenda
---
Lunchtime chats will highlight new research and findings and the the afternoon a panel discussion will include representatives from the City of Toronto, Park People, Toronto and Region Conservation Authority, as well as community group leaders to guide us through the theme of collective action.
---
REGISTRATION
Join us on Friday, November 3, 2023 for a morning reception with opportunities to connect with interested and engaged individuals followed by a day filled with speakers, workshops and educational engagement. End the day with an optional hike and social.
Featured Presenters
Belonging and Challenges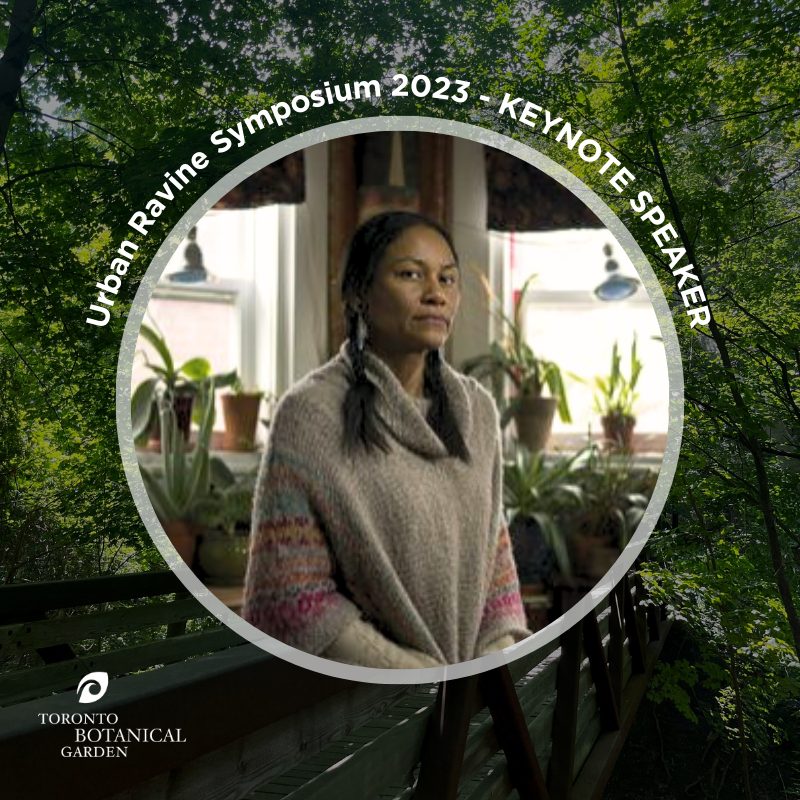 Carolynn Crawley
Msit No'kmaq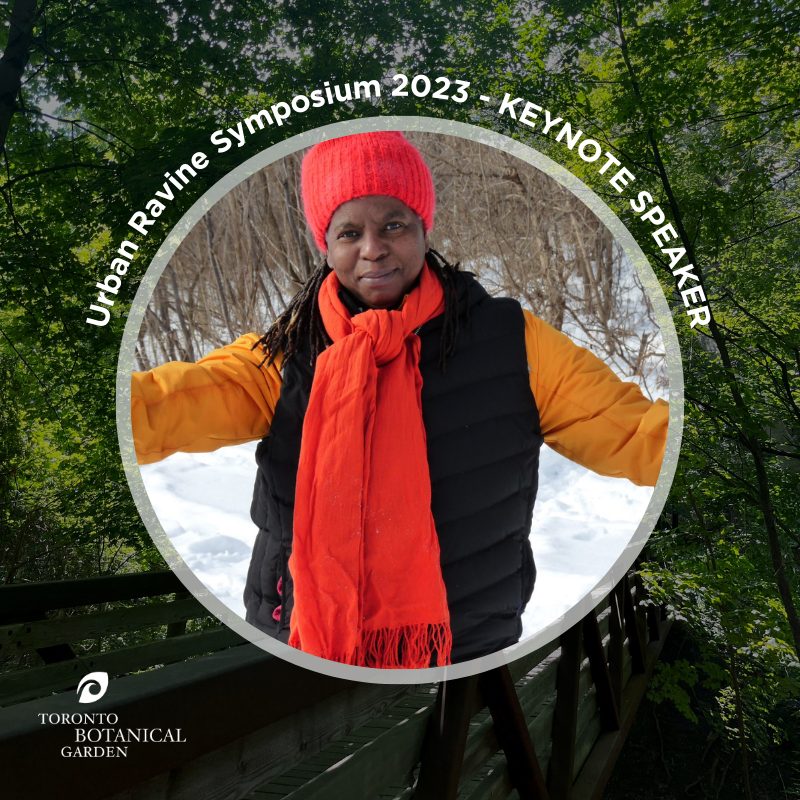 Jaqueline L. Scott
Black Outdoors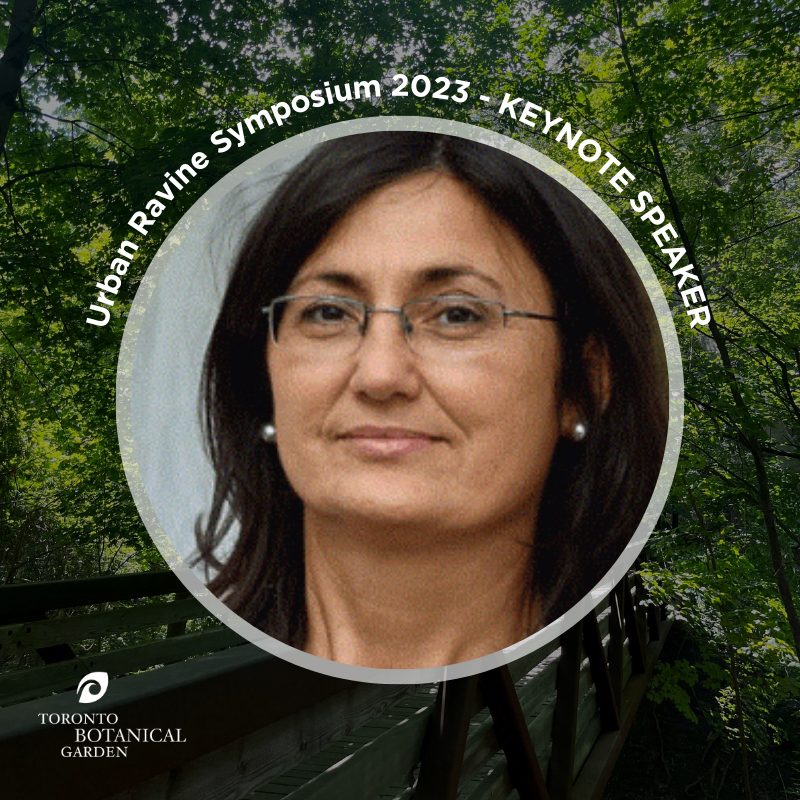 Danijela Puric-Mladenovic University of Toronto
Carolynne Crawley
Carolynne Crawley, founder of Msit No'kmaq, is Mi'kmaw, Black, and Irish. She is from Mi'kma'ki territory, also known today as Nova Scotia. But Tkaronto has been her home since a young child. She is dedicated to social and environmental justice and supporting Indigenous led community work related to Indigenous food ways and food security. Carolynne is passionate about reconnecting people with the land, waters, and all beings as there is no separation between us.  Carolynne leads workshops for the public and the private sector which support the development and strengthening of healthy and reciprocal relationships based upon Indigenous knowledges that Indigenize existing interactions with the land and by deconstructing colonial and capitalistic thoughts, language, and actions.  
Carolynne is one of the founders of Turtle Protectors, a new initiative led by Indigenous Elders and community members to advocate, protect, and support turtle relations and their kin in High Park.  She is also a certified Forest, Blanket Exercise Facilitator, a Holistic Nutritionist, Storyteller, a Co-Producer of the documentary Reckoning with the Wendigo, and a member of the Indigenous Land Stewardship Circle.  Carolynne has built school food gardens and has worked in food security for twelve years.  Previously, Carolynne worked as a Child & Youth Worker for twenty years. She can be found speaking at events that center around social, food, and environmental justice.  
Talk Title: Returning Home 
Talk Description: At one point in time all our Ancestors were in a deeper and more meaningful relationship with the Earth that was culturally specific to where they were located.  But throughout history people have been violently separated from that relationship.  Today many Indigenous peoples around the Earth are still engaged in a respectful and reciprocal relationship.  Carolynne Crawley from Msit No'kmaq and Turtle Protectors creates opportunities for people to reflect and return home to that relationship.  She will speak of the multiple possibilities to connect with the ravine systems in Toronto to create a sense of belonging along with understanding ones' individual and our collective responsibility to reconcile with these areas through our language and actions. 
Jacqueline L. Scott
Jacqueline L. Scott is a PhD candidate at the University of Toronto, OISE, in the Department of Social Justice Education. She is a fellow at the Safina Center. 
She volunteers as a land steward, and as a hike and bike leader with outdoor clubs. Jacqueline leads Black History Walks in Toronto. Black Outdoors is a blog about her academic journey and outdoor adventures. She enjoys hiking, canoeing, cycling, and skiing. These things make her happy. A PhD was the perfect way to combine her love of the outdoors and get out of her mid-life funk. Her research is on the perception of the wilderness in the Black imagination. In other words, how to make the outdoors a more welcoming and inviting space for Black people. It is part of a larger research project on the links between race and nature. She is the author of travel and adventure books, from a Black perspective, 50 Places: A Black History Travel Guide of London, Heartbeats in Africa: A memoir of travel and love, and Sailing on a Half Moon
Talk Title: Living near is not the same as having access. 
Talk Description: The ravines are there, are free, and most are easy to reach by public transit. There are ravines near where most Black and other people of colour live in Toronto. However, who has access to the ravines is more complicated than simply living close to them. The presentation explores how race, power and privilege shapes who has access to the ravines. It includes tips on how to work with Black communities to increase their sense of belonging and connection to nature in the ravines. 
Danijela Puric-Mladenovic
Danijela Puric-Mladenovic is an assistant professor at the University of Toronto's Faculty of Forestry. Her research and professional work focus on forests in settled and urban landscapes. Her work and research are aimed at providing real-world solutions and tools that support strategic conservation, restoration and integrated spatial planning of green systems, vegetation and forests in urban, peri-urban, ex-urban and rural/agricultural landscapes and their interfaces. 
A limited number of accessibility tickets for students and those working at not-for-profit organizations are available on a first-come basis.
Related Events