Kokedama in the Terrarium | at 10 a.m. AND 1 p.m.
December 2
@
10:00 am
–
2:30 pm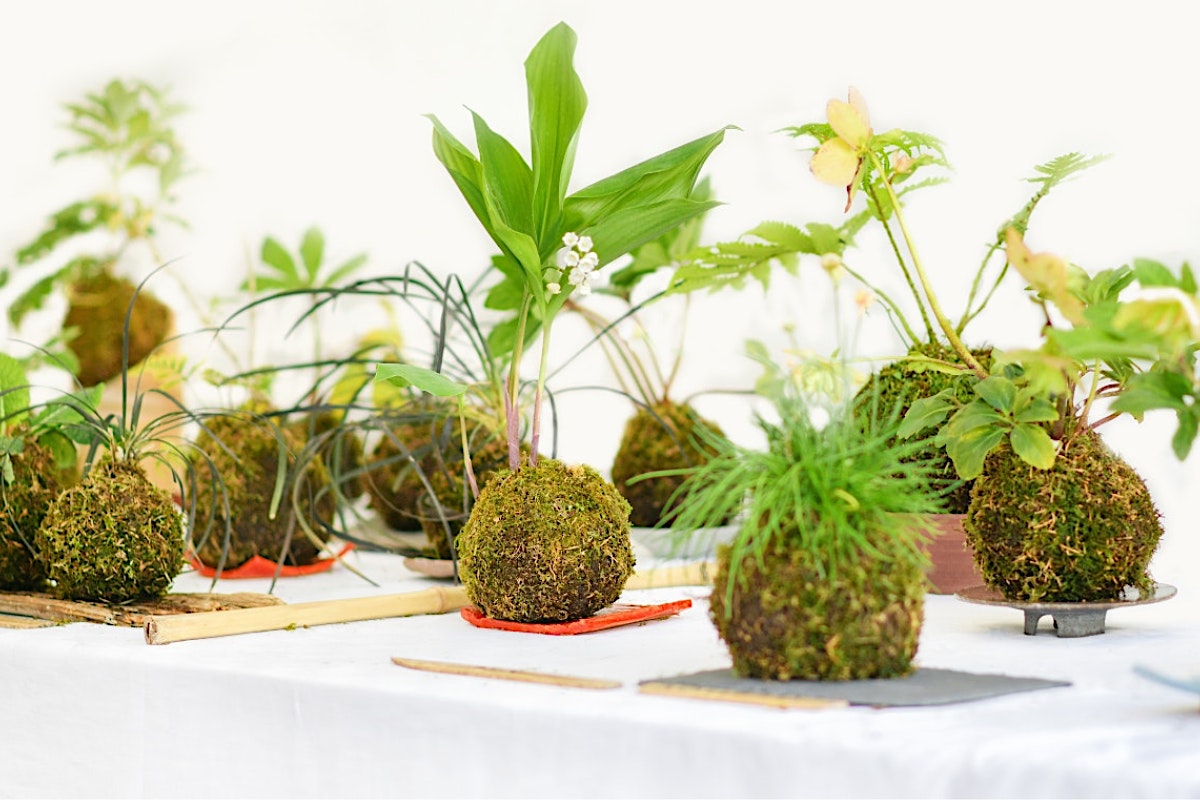 'Moss ball bonsai,' Kokedama is the Japanese art of planting without pots. A ball of soil or clay is covered with moss is used to support the plant's roots. Considered to be cheerful, peaceful, and calm, this charming design style began in the seventeen century. Perfect in small spaces, Kokedama are often presented on decorative plates, wood branches, or stone but they can also be suspended in the air with the help of a cord. In this workshop, you'll learn the history of this art, get an introduction to moss (an often ignored member of the plant kingdom), and learn to make your own beautiful kokedama. An unusual and low-maintenance hostess or holiday present!
All materials required will be provided to create two kokedama balls per participant. If you would like to purchase more plants, please visit our Garden Shop. The workshop is not affiliated with the Certificate in Floral Design.
Saturday, December 2, 2023
Session 1: 10 to 11:30 a.m.
Session 2: 1 to 2:30 p.m.
Public $62, Members $55 (plus applicable taxes and fees)
About Lil Taggart
Lil Taggart is an experienced and creative designer and instructor in Floral Arts. She is also an accredited Floral Design Judge and has competed on an international level as well as domestically. She serves on the board of Canada Blooms, co-chairs the staging for the Toronto Flower Show, is past president of the Georgetown Horticultural Society, and is a member of The Garden Club of Toronto.
Join Toronto Botanical Garden
Join the Toronto Botanical Garden (TBG) as a member to get a discount on this program, upcoming events and classes, and free parking. A TBG membership helps you deepen your knowledge and connection to the natural world, become a part of a dynamic community of plant people, and be inspired! Become a member!
Safe Program Access
To ensure the safety of our participants and instructors, all staff, volunteers, and participants are welcome to wear masks indoors and maintain physical distancing.
To learn more about what we're doing to make your next visit safe, enriching, and uplifting, please review our list of Frequently Asked Questions.
Read about our Refund Policy and Code of Conduct.
This is an in-person, indoor, Adult Education program at the Toronto Botanical Garden.
We appreciate your support and cooperation.
Registration Deadline: Thursday, November 30, 2023 at noon.
Related Events