Author Talk | Garden Therapy: 5 Minutes a Day to Transform Your Life
February 23
@
6:30 pm
–
7:30 pm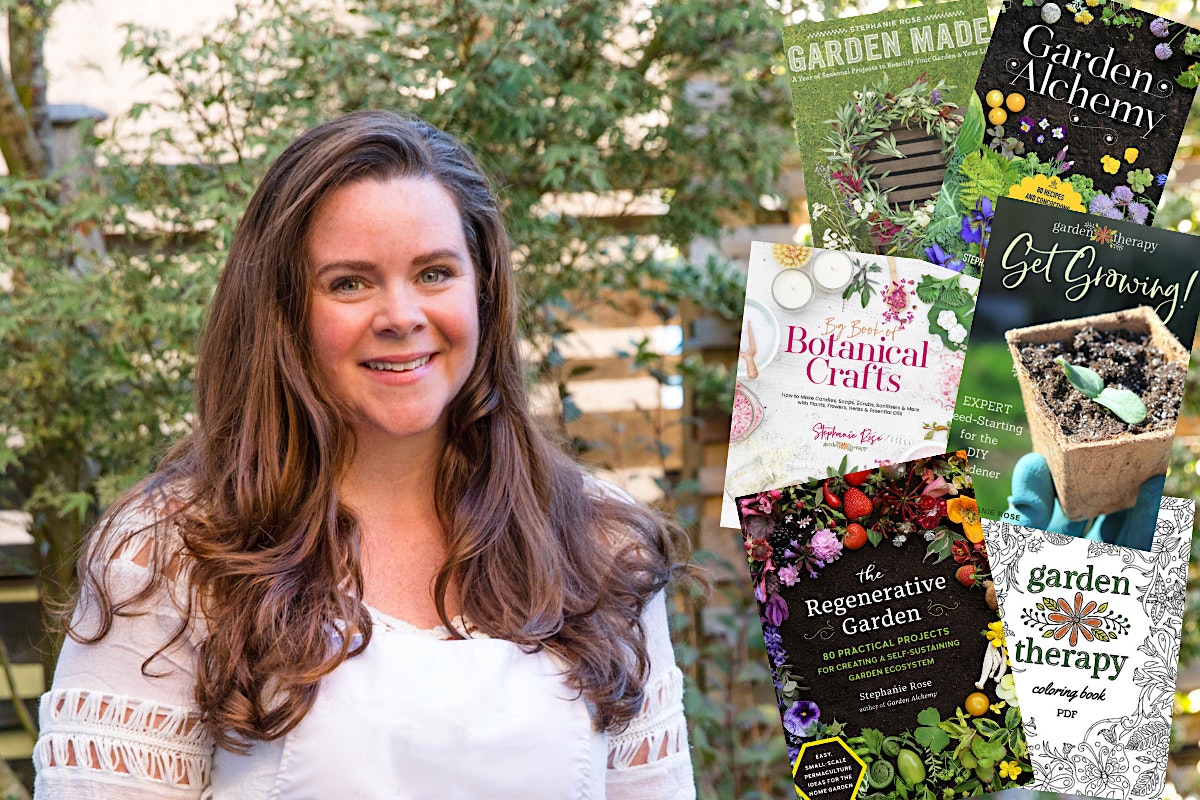 ONLINE AUTHOR TALK with Stephanie Rose
Award-winning author and wellness advocate Stephanie Rose will inspire you with new ideas to include more plants in your life and home.
Spending just five minutes with plants can make a world of difference to your well-being. Stephanie Rose, creator of Garden Therapy® and author of 12 books including The Regenerative Garden (Cool Springs Press 2022) and Big Book of Botanical Crafts (Better Day Books 2022) shares her journey of rehabilitation from severe disability starting with just five minutes a week of gardening. In this seminar, you'll see the unbelievable transformation that can happen by starting small, while you gather a bounty of quick ideas to include plants in your life and home. From making botanical bath and body products and herbal cleaners to natural candles and garden crafts, you will leave this session with inspiration, motivation, and surely a few laughs!
Book info: https://gardentherapy.ca/big-book-of-botanical-crafts/
Thursday, February 23rd from 6:30 to 7:30 p.m.
Public $5, Free for TBG members and volunteers (plus applicable taxes and fees)
About Stephanie Rose
Stephanie Rose is an award-winning author, gardening expert, certified permaculture designer, herbalist, and wellness advocate. After Stephanie faced her own debilitating illness she found solace and healing through gardening and herbs. Now, she draws on experiences from her personal journey and expert garden knowledge in her books and popular website, Garden Therapy®.
Stephanie has written 12 books including The Regenerative Garden: 80 Practical Projects for Creating a Self-sustaining Garden Ecosystem (Cool Springs Press, 2022), Garden Alchemy: 80 Recipes and Concoctions for Organic Fertilizers, Plant Elixirs, Potting Mixes, Pest Deterrents, and More (Cool Springs Press, 2020), Home Apothecary (Leisure Arts, 2018), The Natural Beauty Recipe Book (Rose Garden Press, 2016), and Garden Made: A Year of Seasonal Projects to Beautify Your Garden and Your Life (Roost Books, 2015), which was a Gold Medal Winner from the 2016 Independent Publishers Book Awards (the "IPPYs"). Stephanie's latest book, The Big Book of Botanical Crafts: How to Make Candles, Soaps, Scrubs, Sanitizers & More with Plants, Flowers, Herbs & Essential Oils was released in autumn 2022.
Stephanie spends her time as an organic gardener, writer, and artist in Vancouver, BC, Canada. She is passionate about organic gardening, natural healing, and art as part of life. Stephanie lives with her kiddo, dog, cat, and 500 worms.
Online Program Access
Please note that this program is being hosted live ONLINE only. It will not be recorded, and it will only be available on Zoom at the scheduled time. Log-in details will be sent 2 days before the program date. Please make sure that you check your junk mail and/or make Eventbrite a trusted site.
Participation in online programming requires that attendees have access to and familiarization with current technology. Please review our Education Refund Policy and Code of Conduct and Zoom Best Practices document.
Please note that tickets are non-refundable for this program.
Registration Deadline: Wednesday, February 22nd at 12:00pm.
Related Events