Author Talk | Why Our Gardens Matter with Lorraine Johnson
October 19, 2022
@
7:00 pm
–
8:30 pm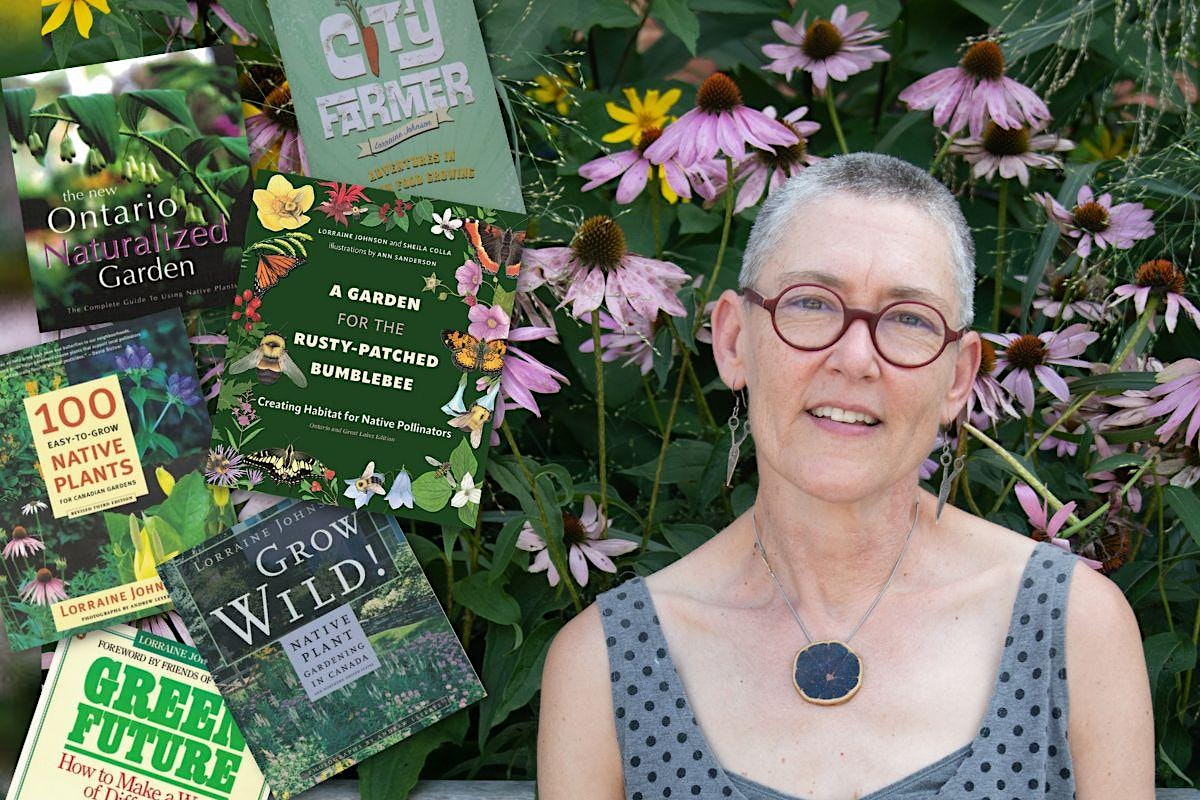 Lorraine Johnson has been writing about gardening as a force for ecological and social change for more than 30 years, in numerous books such as Green Future; Tending the Earth; The Ontario Naturalized Garden; Grow Wild; The Real Dirt; City Farmer; 100 Easy-to-Grow Native Plants for Canadian Gardens, and the recently published A Garden for the Rusty-Patched Bumblebee (co-authored with Sheila Colla). In this illustrated talk, Lorraine shares stories and readings from these works, looking at what we can learn from efforts to rethink some gardening traditions in order to take us into a future of ecological health and justice. Prepare for some humour and some provocation, unified by the idea that our gardens matter now more than ever.
"Lorraine Johnson has been one of the most constant and helpful advocates of putting native plants back into the garden." – A History of Canadian Gardening, by Carol Martin, published in 2000
Lorraine's new book A Garden for the Rusty-Patched Bumblebee, in addition to some of her other books will be available for sale with author signing following the talk.
Wednesday, October 19, 7 p.m.
Public $5, Free for members and volunteers (plus applicable taxes and fees)
About Lorraine Johnson
Lorraine is a writer, editor and community advocate who, when pressed to describe what unifies her work, has settled on the term cultivation activist.
The author of numerous books on growing native plants, gardening for pollinators, restoring habitat, and producing food in cities, Lorraine's work focuses on people and communities growing plants, ecological health, and connection to nature and to each other.
Through her books, articles and community projects, she strives to advance the understanding that everything and everyone is connected and that, through our actions, we all have a role to play in making this world a better place for all life.
She's a little bit earnest, but, she hopes, in a good way
Registration Deadline: Tuesday, October 18 at 12 p.m.
Safe Program Access
To ensure the safety of our participants and instructors, all staff, volunteers, and participants are welcome to wear masks indoors and maintain physical distancing.
To learn more about what we're doing to make your next visit safe, enriching, and uplifting, please review our list of Frequently Asked Questions.
Please review our Health and Safety Policies and Refund Policy and Terms of Agreement.
This is an in-person, indoor, Adult Education program at the Toronto Botanical Garden.
We appreciate your support and cooperation.
Related Events