Meet Aruna, TBG's new Adult & Family Learning Supervisor. She's just become a Master Gardener, but her passion for plants dates to when she was little. "In the way reading or playing is a part of childhood, I also had gardening—it has always been a part of my life," she says. In fact, Aruna had her own flower bed at the age of seven. "It was a pretty small section in the corner, but I was allowed to make my little arrangement with a stone border," she says.
Like many horticulturists and gardeners, Aruna doesn't have a favourite. "They're all my favourites," she says. However, pansies hold a special place in her heart because, "they are an edible cold weather flower which perk up when other plants droop." Did you know that pansies can also be eaten raw or sugared—making them the perfect cake topper or dessert!
For Aruna, it's not about the mechanics, but rather, gardening to create an atmosphere of beauty—which of course, made TBG the perfect place to work (especially after being a long-time member and visitor!). Being a part of a horticultural society and a Toronto Master Gardener wasn't enough for Aruna. Now, our new Adult & Family Learning Supervisor has all the opportunities to continue to learn and to share her wealth of plant knowledge with anyone willing to lend an ear.
All the new excitement surrounding house plants and gardening creates a strong community of plant-lovers and environmental advocates. However, even the brightest days end in nightfall. "The green hype has led some nouveau plant enthusiasts to spread misinformation, especially on social media, which isn't rooted in soil science or botany," Aruna says. She encourages knowledge seekers to listen to scientifically supported information (or ask a Toronto Master Gardener!), so that people and their plants are safe and healthy.
Nevertheless, Aruna is the biggest advocate for experimenting. Her biggest piece of advice is to try new things and make mistakes. "Don't be afraid to try a new technique. If your plant dies, compost it, and start from the beginning—it's okay to re-invent your plant collection and yourself," she says.
The TBG community, where plant people meet, is thrilled to welcome Aruna. Don't be afraid to chat with her about all things gardening.
The real dirt on horticultural societies at the Garden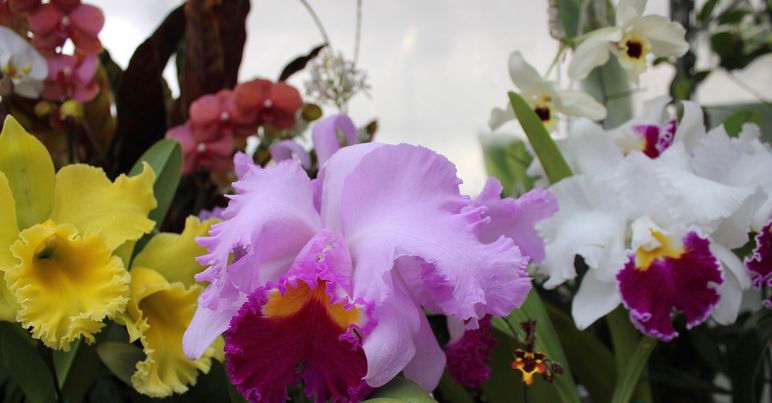 TBG also hosts numerous where you can get involved in our urban green space. Or, connect with our horticulture partners like the Southern Ontario Orchid Society (SOOS), who are itching to deliberate on the 35,000 varieties of orchids.
In fact, beginners and experts alike can join SOOS at the TBG in the Garden Hall on the first Sunday of every month for advice and fun. "When you get your first orchid from the grocery store, they don't require a lot of light. Flood the pot and let it drain so they aren't sitting in water. Let them get almost dry before watering them again," says Terry, from SOOS.
Sometimes the key to successful growing is to connect with people who live in the same conditions as you. When in doubt, ask questions because plant people love to answer them.
Check out TBG's horticulture partners or attend an upcoming event. Many of our events are generously supported by the Ontario Trillium Foundation. TBG is thankful for their contribution in making the Garden an urban green space that people want to learn, grow, and have fun in.