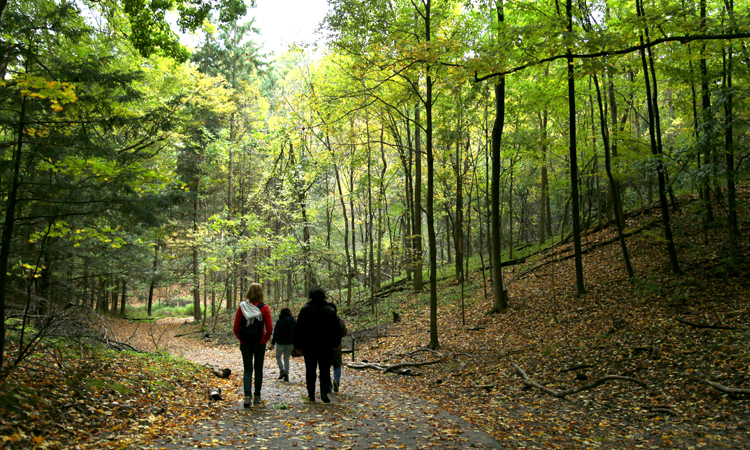 JOIN OUR TEAM!
Title: Ecologist
Position Type: Part-time, contract (4 days per week for 12 months)
Supervisor: Knowledge Resources Manager
Start date: September 30, 2019
OVERVIEW
This is an exciting opportunity to play a pivotal role in the planning of TBG's expansion, which will include extensive ecological studies and restoration. Reporting to the Knowledge Resources Manager, and working collegially within a team structure, the ecologist will be responsible for the delivery of an Ontario Trillium Foundation (OTF) project. They will conduct research and planning that will greatly contribute to the ecological restoration of Wilket Creek Ravine as well as the ravine renaissance underway across the city.
RESPONSIBILITIES
The ecologist will conduct literature reviews, interviews, data analyses and field research (including plant surveys) to determine the ecological health of Wilket Creek Ravine as well as best practices for community-based restoration. Findings and related recommendations will be compiled in a report, and feedback from local experts will be solicited.
The ecologist will also develop a multi-year plan for meaningful, long-term engagement of TBG staff, volunteers, students and visitors in ecological restoration. This plan, which will include a budget, timeline and evaluation procedure, will also undergo a rigorous review by experts.
After incorporating feedback and finalizing the assessment report and engagement plan, the ecologist will share these products with the TBG community and ravine advocates across the city and beyond.
During their term of employment, the ecologist will also contribute to TBG programs, practices and policies that relate to conservation and restoration. This will include leading walks, giving presentations, and providing an ecological perspective to discussions and decision-making.
QUALIFICATIONS
University degree in natural resources, ecology, forestry, environmental science or related field
Minimum 3 years work experience in similar role
Proficient computer skills, especially with GIS software
Ability to analyze and interpret complex data for non-technical audiences
Flora surveying experience
Outstanding communication skills, both verbal and written
Detail-oriented and highly organized
Collaborative work experience
Independent and reliable
Flexible with time, able to work some weekend and evening events
Experience working in the non-profit sector is an asset
A passion for nature, conservation and education is a must
TBG is committed to environmental sustainability education and action. All TBG employees and volunteers are expected to learn about and contribute to greening initiatives. Information about these initiatives can be found at torontobotanicalgarden.ca/green.
APPLICATION PROCEDURE
Please send your cover letter and resume as a single PDF document with your name as the file name to Mark Stewart at librarian@torontobotanicalgarden.ca by September 5, 2019. We thank all applicants for their interest, but only those selected for an interview will be contacted.
---
TBG is an equal opportunity employer committed to fostering a diverse and inclusive work environment. In accordance with relevant legislation including the Ontario Human Rights and Accessibility for Ontarians with Disabilities Act, a request for accommodation will be considered throughout the hiring process.