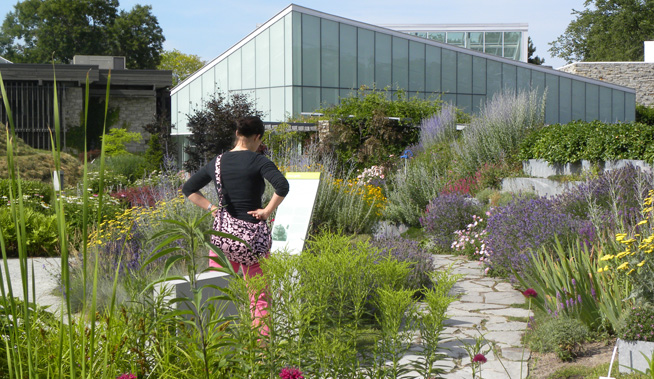 Toronto Botanical Garden offers an array of award-winning themed gardens spanning nearly four acres, designed to educate and inspire adjacent to Wilket Creek, Don Valley Ravine and Edwards Gardens. We offer a complete range of innovative indoor and outdoor learning experiences for all ages including programs, garden tours, nature day camps, special events and Canada's largest private horticultural library. The LEED Silver Certified Building with an energy-efficient sloping green roof and award-winning ecologically conscious design includes indoor/outdoor event space facilities, a garden shop and seasonal café.
Botanical gardens play an increasingly important role in the 21st century: they are public institutions best positioned to provide knowledge and understanding of the world of plants and the importance of plants and healthy ecosystems to all other life on earth. Toronto Botanical Garden is embarking on an exciting capital expansion to expand its education, horticultural display, conservation and research across a 35-acreage footprint that will serve over 1 million visitors a year.
Toronto Botanical Garden is a registered charitable organisation, governed by a Board of Directors.
TBG BY THE NUMBERS
More than 2,200 households hold Toronto Botanical Garden annual memberships
542 donors support the TBG annually
40 per cent of the Hearts & Flowers Annual Campaign donors were new donors to TBG
542 volunteers contributed 13,700 hours of volunteer work
Approximately 250,000 people visited the garden
4,527 plants, represent 2,610 taxa (species and cultivars) from 116 plant families
5,300 children participated in March break and summer camps, school visits and other family events
2,100 adults participated in 77 courses, three workshops, six lectures and one symposium
5,372 people used the Weston Family Library
530 people participated in free guided tours at TBG and the Music Garden and 120 people enjoyed guided tours of Wilket Creek Ravine
4,000 people attended eight free concerts in the garden generously supported by The Edwards Charitable Foundation
Over 100 sculptures were on display in the gardens during the ZimSculpt summer art exhibition
$148,157 in new revenue was achieved through the initiation of Paid Parking in our adjacent parking lot.
The garden shop met its sales targets; the May Plant Sale enjoyed increased attendance and met its sales targets.
190 clients held 473 events at the TBG including wedding receptions, film crew lunches, corporate and horticultural meetings, plant sales, and more. Revenue generated from facility sales is a significant contributor to TBG's operating budget.
For more information, click here for our Annual Report.