Finding destinations for garden tours is hard work, but someone has to do it. And lucky me, last fall I went garden scouting with Donna Dawson of www.gardeningtours.com. We were looking for patches of paradise worthy of a spot on one of her popular garden tours and found ourselves near Atlanta, Georgia at Callaway Gardens. I had always associated Callaway with a brand of golf clubs (what do I know? I don't golf) and was surprised to find that not only is there no connection to the makers of golf clubs (though there is a golf course), Callaway Gardens is an enormous property consisting of thousands of acres of woodland (40 acres alone are devoted to the world's largest collection of azaleas), a resort hotel, a lake and nature preserve, display gardens and more. My favourite spot was in and around the 5-acre John A. Sibley Horticultural Center, a one-of-a-kind garden glass house filled to brimming with both native and exotic plants.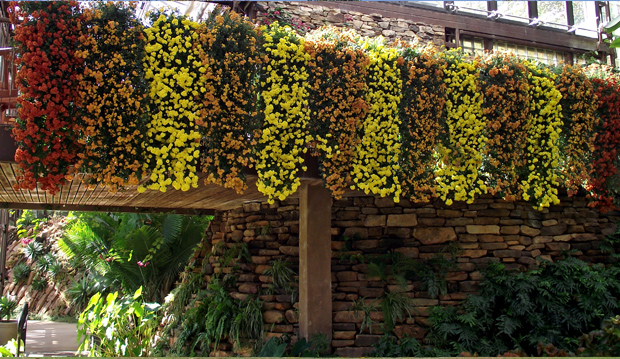 From mid-September into November, the chrysanthemum is the "queen of the autumn show" where, throughout the gardens, more than 10,000 mums are planted to welcome the season.
In particular, the cascading mums captured my attention. A display of this kind does not just happen. Getting mums to cascade is a painstaking process and takes months. It starts by pinching off all side branches to leave a single stalk. Once the plant reaches the desired height, the stalk is attached to a wire frame with twist ties. Then, you allow the side branches to fill in, pinching several times over the summer to adjust the form. When buds form in the fall, it's time to stop pruning and wait for the show.
This image of a side view isn't particularly pretty, but it gives you an idea of how the "cascade" is formed.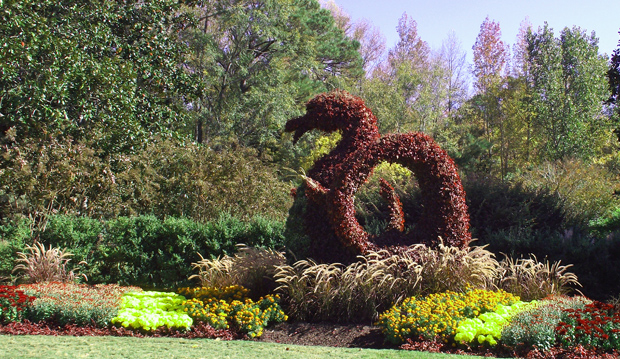 Throughout the gardens touches of whimsy add interest to the mum displays, such as this "dragon" topiary.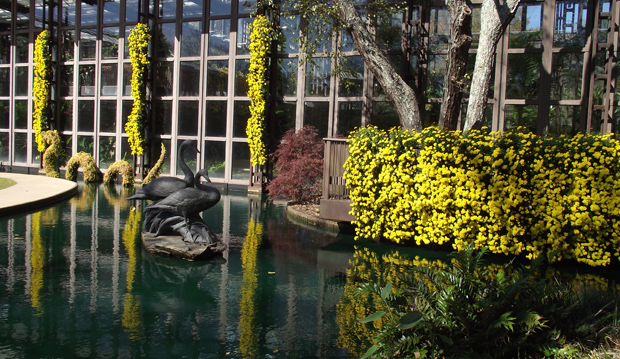 Just outside the conservatory a reflecting pool enhances the form and colour of this lovely display of bright, butter yellow cascading mums.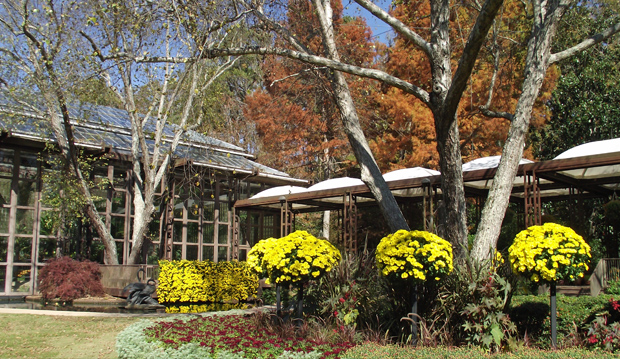 Lollipop trees fashioned out of the same yellow mums make a statement near the pergola.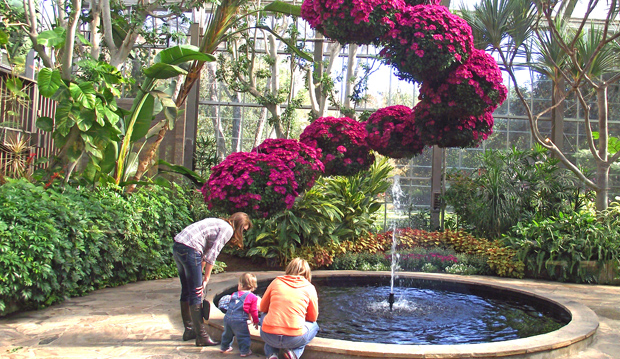 Inside the conservatory, this gorgeous swirl of mums illustrates what you can do with a few hanging baskets (and a whole lot of talent). The baby, however, seems to be more interested in the fish.
In 2013 Donna will be taking garden lovers to Ecuador, India, China, Paris and the Chelsea Flower Show in England, as well as Tuscany, Italy, and Argentina. Check out www.gardeningtours.com for the latest info.