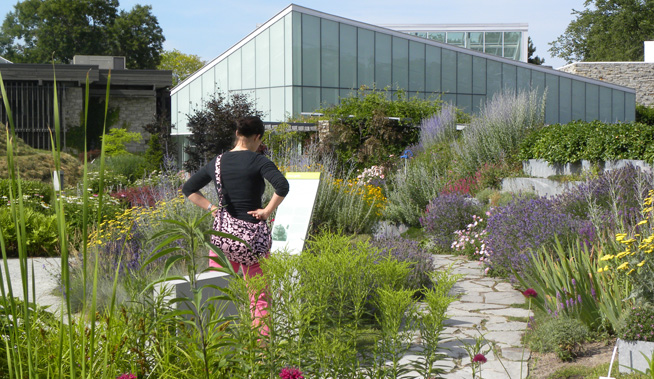 Toronto Botanical Garden offers an array of award-winning themed gardens spanning nearly four acres, designed to educate and inspire adjacent to Wilket Creek, Don Valley Ravine and Edwards Gardens. We offer a complete range of innovative indoor and outdoor learning experiences for all ages including programs, garden tours, nature day camps, special events and Canada's largest private horticultural library. The LEED Silver Certified Building with an energy-efficient sloping green roof and award-winning ecologically conscious design includes indoor/outdoor event space facilities, a garden shop and seasonal café.
Botanical gardens play an increasingly important role in the 21st century: they are public institutions best positioned to provide knowledge and understanding of the world of plants and the importance of plants and healthy ecosystems to all other life on earth. Toronto Botanical Garden is embarking on an exciting capital expansion to expand its education, horticultural display, conservation and research across a 35-acreage footprint that will serve over 1 million visitors a year.
Toronto Botanical Garden is a registered charitable organisation, governed by a Board of Directors.
2018 FACT SHEET
Approximately 250,000 people visited the botanical garden which contains 4,527 plants, representing 2,610 taxa (species and cultivars) from 116 plant families. Admission is free. The horticulture team also planted 23,000 spring flowering bulbs throughout the garden (many of which were generously donated).
TBG hosted its first outdoor art exhibition in the garden. ZimSculpt, a world-renowned travelling exhibition featured hundreds of hand-carved stone sculptures by contemporary Zimbabwean artists. The exhibition provided visitors with an opportunity to experience art within the backdrop of a living museum. Admission to the exhibition was free.
In November, the TBG in partnership with Toronto Ravine Study Group officially released the findings from a major study, Toronto Ravines Study 1977 to 2017: Long-term Changes in the Biodiversity and Ecological Integrity of Toronto's Ravines. In addition, 140 eco-minded individuals and industry professionals attended TBG's Ravine Symposium hosted at the gardens.
2,530 adults participated in 106 courses; 42 people graduated from Horticultural Therapy, Floral Design and Garden Design programs; and 6,200 children participated in spring break and summer camps, sleepovers, school visits and more.
TBG's Weston Family Library houses the largest private horticultural collection in Canada with over 10,000 books, magazine titles, and an extensive periodical collection. Over 5,220 people used the library in 2018.
More than 2,000 households hold Toronto Botanical Garden annual memberships.
TBG has a vibrant volunteer community with 500 active volunteers who contributed 18,500 volunteer hours.
TBG hosted numerous free public events throughout the year including Get the Jump on Spring, Seedy Saturday, Earth Day, Harvest Day, and eight outdoor concerts as part of the Edwards Summer Music Series.
During the summer and fall, TBG offered free guided tours of the gardens. 1,000 people participated in 98 tours at TBG and the Toronto Music Garden; and 1,500 people participated in 55 ravine tours — a new offering for 2018.
The LEED building and beautiful gardens provide TBG with an opportunity for earned revenue. Last year 187 clients held 510 events at the TBG including wedding receptions, film crew lunches, corporate and horticultural meetings, plant sales.
TBG's end of year "Hearts & Flowers" fundraising campaign raised close to $200,000
For more information, click here for our Annual Report.